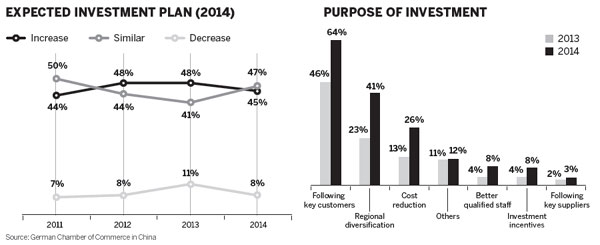 Zhang Ye / China Daily
Complementary industrial base can help boost nation's structural reform
China's economic restructuring will usher in a new era of German direct investment featuring automation, digitalization, environmental technology and renewable energy, a senior official of the German Chamber of Commerce
in China said on Thursday.
German businesses operating in China are performing robustly and remain relatively optimistic despite the economic slowdown, according to the Business Confidence Survey 2014 conducted by the chamber between May 12 and June 6.
The survey drew responses from 417 companies, or 17.4 percent of the chamber's members.
"Its importance as a global market has, despite slower economic growth in China, continued to increase for both turnover and profit ... This indicates that the Chinese market remains a key growth driver for German companies," Lothar Herrmann, chairman of the northern division of the chamber, said during the release of the survey.  
The importance of the Chinese market has continued to increase, with more than three-fourths of the respondents identifying domestic demand in China as the most important market for their local operations.
German companies are operating in China to participate in economic growth and development within China, and they're investing in China to satisfy domestic demand, said the survey.
In contrast, the 2014 European Business in China Business Confidence Survey, released on May 29, found that 46 percent of 552 surveyed businesses believe the "golden era" for multinationals in China has ended, amid tougher business conditions in a slowing economy.