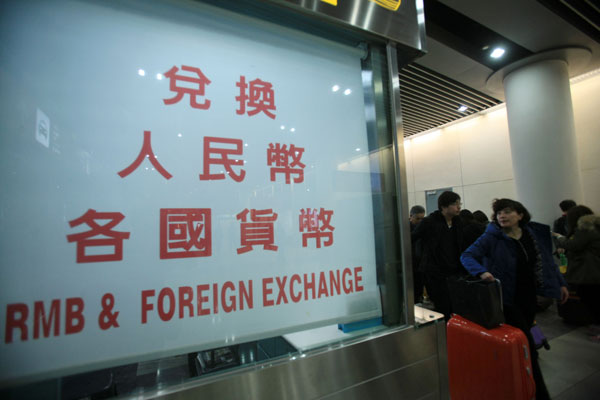 A foreign exchange counter in Hong Kong. The stock exchange there will introduce yuan-denominated debt and currency products that the onshore market doesn't have, Chief Executive of HK Exchanges and Clearing Ltd Charles Li said on Thursday. Provided for China Daily
Exchange will develop wider range of hedging tools for debt, currency markets
The stock exchange in Hong Kong will introduce yuan-denominated debt and currency products that the onshore market doesn't have, Chief Executive of HK Exchanges and Clearing Ltd Charles Li said on Thursday.
Li said these products, to be introduced in the coming years, will offer hedging tools to offshore investors.
Li said the Hong Kong Shanghai Stock Connect, a cross-border stock trading program known as the "through train", could be extended to fixed-income and currency products.
"Mutual market access between Hong Kong and the mainland gives us great scope for imagination. HKEx nee
ds
to develop more new products to prepare for that," he told a forum on the yuan in Hong Kong.
According to Li, in the next three to five years, the Hong Kong bourse will establish links with commodity exchanges in Shanghai as well as Dalian, Liaoning and Zhengzhou, Henan. Then mutual market access will be extended to fixed-income and currency products.
"Many international investors have a strong demand to trade in mainland fixed-income products, but they have no access now," Li said. "They would be interested in trading on the onshore bond markets through Hong Kong if the Hong Kong-Shanghai tie could expand into fixed-income products and currencies."
"With the Hong Kong Shanghai Stock Connect, the HKEx can play a bigger role to link foreign issuers and onshore capital," said Robert Yu, head of debt capital markets at China International Capital Corp Ltd. "After rapid development in the past five years, China's onshore bond market has become the third-largest in the world, and it offers a great variety of products to investors."
Yu noted that although the Chinese government has encouraged foreign entities since 2005 to issue yuan-denominated bonds in the mainland (panda bonds), there hasn't been much action in that market. The problems are technical - different governing laws, accounting standards and pricing issues, he said.
German luxury carmaker Daimler AG was the most recent issuer of panda bonds. It sold 500 million yuan ($80.2 million) in one-year bonds on March 14 at a yield of 5.2 percent.