Route expected to generate huge business opportunities, analyst says
The world's longest high-speed rail service, which starts between Beijing and Guangzhou on Wednesday, is expected to bring huge economic prosperity to towns and cities along its route, creating what officials are calling world-class "city clusters" across Central China.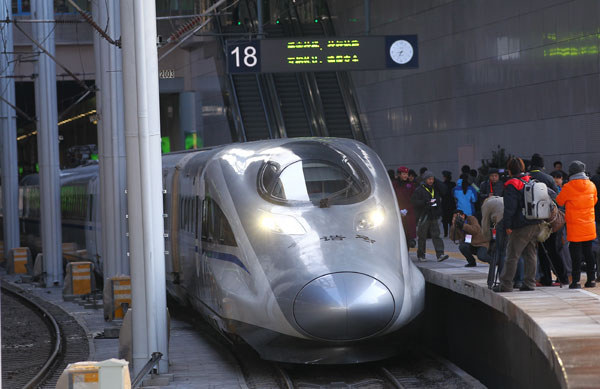 A high-speed train for the Beijing-Guangzhou route is set for test operation in Beijing on Saturday. Opening of the line will not only benefit towns and cities along its route but also release huge cargo transport capacity. Zou Hong / China Daily 
Designed to carry passengers at an average speed of 300 km per hour, the high-speed link will cut travel time between the country's capital and the southern economic center to about eight hours.
There will be 35 stops along the way, including major cities such Shijiazhuang, Zhengzhou, Wuhan and Changsha, and the route will cut through areas with a combined population of 300 million to 400 million.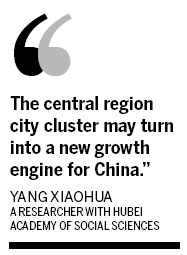 "Opening the route will not only bring these cities closer, but will generate business for many different supporting facilities, promoting change in their growth patterns for years to come," said Wang Mengshu, an academic at the Chinese Academy of Engineering.
He said GDP growth in many of those areas had been independent of each other in the past, and relied mainly on real estate development and automobile sales, both of which had been run inefficiently while consuming massive resources.
Better access to fast railway links will now mean improved cargo transportation between factories in various cities, leading to greater expansion of support facilities, Wang said.
"Railways will indeed become a way to increase prosperity for so many industries," he added.
Wang calculates that a 600-billion-yuan ($96 billion) annual investment on railway construction could generate 3,000 kilometers of railway a year, which in turn could raise the country's annual GDP growth by 1.5 percentage points, and create more than 6 million jobs.
He said the country's tourism industry was likely to be one of those to most benefit from the high-speed rail development, and many in the sector have already been preparing to take advantage of the opportunities.
For instance, at Shijiazhuang Railway Station in the capital of Hebei province, which is the nearest major city to Beijing on the line, two new squares are being built together with a tourist center.
"The goal is to promote one-day trips, and to try to convert 'passing-by' passengers into 'staying over' passengers, which will really help boost the local catering and hotel industries," said Wen Hao, the director of the city's tourism office.
Apart from increasing the flow of people into the cities, the railway will also greatly increase freight traffic, he added.
Related Readings
Longest high-speed rail line takes smooth test run

China to open world's longest high speed rail

Railway investment to be capped at 700b yuan in 2013

Rail investment back on track