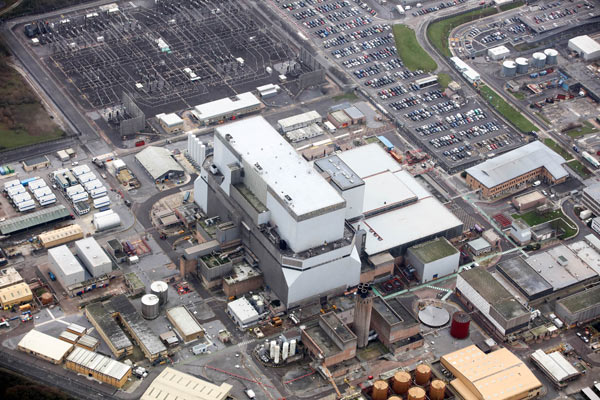 A nuclear plant project invested by China General Nuclear Power Corporationin in UK is seen in this file photo.[Photo/VCG]
China urged Britain to reach a decision on a controversial multibillion dollar power station project as soon as possible, as a key minister behind London's closer ties with China was reported to be considering resigning.
The newly-appointed government of Prime Minister Theresa May caused shock by delaying a formal decision on a China-backed nuclear project at Hinkley Point in western England.
China's Foreign Ministry on Monday urged London to make a decision as soon as possible and pointed out that both Britain and France, whose power company EDF is building the power plant and which is providing two thirds of the 18 billion pound ($23.7 billion) price tag, had strongly supported the project. China is providing a third of the funding.
China General Nuclear Power Corporation, the country's biggest nuclear operator in terms of capacity, said on Monday that it understands and respects the UK's decision.
"We are fully prepared to work with the French company EDF to push the project, providing safe, reliable, and sustainable source for energy to the UK," CGN said in a statement on Chinese social media platform Weibo.
A spokeswoman for May said on Monday that Britain will continue to seek a stronger relationship with China.
"With the role that China has to play in world affairs, in the global economy, on a whole range of international issues, we are going to continue to seek a strong relationship with China," the spokeswoman said.
Jim O'Neil, the former Goldman Sachs chief economist who coined the phrase 'BRICs' in 2001 to reflect the growing power of the economies of Brazil, Russia, India and China, may quit the government. He was appointed as a Treasury Minister under George Osborne, the former chancellor of the exchequer, or finance minister, who was sacked by May when she took over in July.
The Financial Times reported that Lord O'Neill has told friends he could resign in September unless May can explain why she wants him to stay on.
O'Neill is widely seen as the main architect behind Osborne's enthusiasm for closer ties with China and feels the policy toward Beijing may have shifted under the new administration.
Last week newly-installed chancellor Philip Hammond, on a visit to Chengdu for the G20 Finance Ministers meeting, said the UK wanted to conclude a free-trade agreement with China as soon as possible after Britain's exit from the European Union is finalized.