First nuclear plant to take to the seas
Power station in vessel could provide energy for remote maritime areas and speed up development of South China Sea
China is getting closer to building its first floating nuclear power station, which will be installed in a vessel and could provide a stable source of electricity to remote areas such as the South China Sea.
The construction of China's first maritime nuclear power plant is due to be completed by 2018 and placed into operation by 2019, a leading nuclear engineer said on July 25.
"It won't take long (to construct) the maritime atomic propulsion project because the technology is already mature, and we only need to work on the stability when it operates on a floating vessel," Lei Zengguang, chief engineer of China National Nuclear Corp, tells China Daily.
Speaking on the sidelines of the ninth International Youth Nuclear Congress in Hangzhou, Zhejiang province, Lei says the floating nuclear-powered vessels had the potential to be used in future offshore projects, but the location and number of plants to be built will depend on market demand.
"Normally, we burn oil for power, but the problem with the fuel is that the cost is not only high, but also sometimes you have to transport it a long distance," he says.
"Nuclear power, however, is cost-effective and the fuel only needs to be recharged every year and a half."
Nuclear experts say the maritime nuclear power plants could improve the country's ability to control and speed up commercial development in the South China Sea.
The plants could secure power supplies for future lighthouses, seawater desalination plants, rescue and relief equipment, defense facilities, airports and harbors on islands in the South China Sea, according to Li Jie, a Beijing-based naval expert.
"The nuclear-powered vessels can travel further with more reliable fuel, compared with conventional ships," he says.
Nuclear power plant operator CNNC is developing the homegrown ACP100S technology for China Shipbuilding Industry Corp, the vessel maker in charge of designing and assembling the platforms, and China State Shipbuilding Corp.
China General Nuclear Power Corp, another state-owned nuclear giant, is also developing the small ACPR100 reactor for some remote areas and large industrial clusters, as a supplement to large-scale, land-based nuclear power plants.
lvchang@chinadaily.com.cn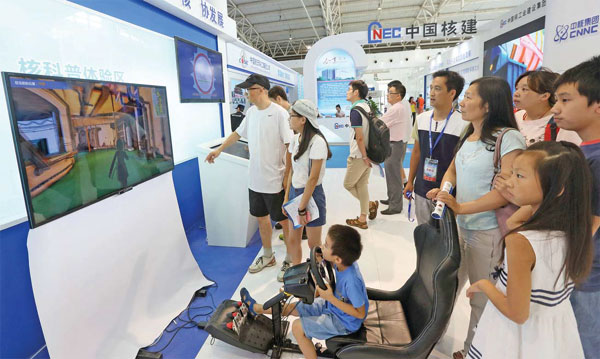 Visitors at the China National Nuclear Corp stand at an industry expo in Beijing. Ajing / For China Daily