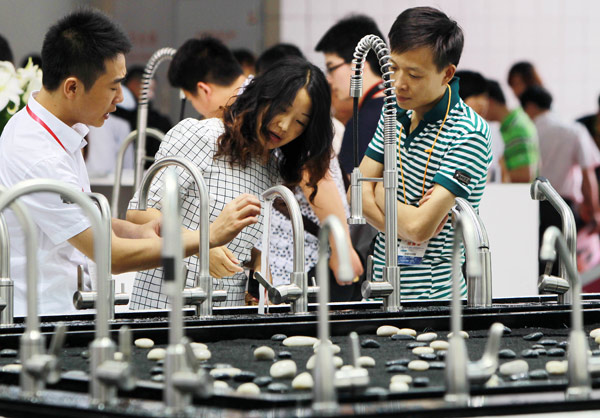 Consumers check the design and function of high-tech kitchen sinks at a consumer products expo in Shanghai.[Photo/Xinhua]
Foreign firms celebrate the changing face of the fittings and fixtures market in China as both neo-rich and upper middle class Chinese splurge
An entrepreneur hits pay dirt, or makes a small fortune, in China-and among his or her aspirational objects of desire are the latest premium version of iPhone (of course), a top-end BMW, designer jewellery, branded clothes and accessories, and, wait for it, luxury kitchen and bathroom fittings.
That's right.
Demand for products like intelligent toilet, good looking shower head, unusual bathtub, kitchen cabinet and oven is so high among the Chinese neo-rich that Shanghai has joined Frankfurt and Milan in hosting a world-class trade fair for the ultimate bathroom and kitchen fixtures and fittings.
Admittedly, Kitchen & Bath China, the exhibition held in June, is not yet in the league of its more renowned overseas versions, which boast a history of more than half a century. It's nevertheless making the trade fairs fiercely competitive.
And so, the world's leading makers of bathroom and kitchen products converged on Shanghai for the fair. Predictably, they were promptly courted by local distributors and dealers. Hordes of consumers were, of course, not far behind.
Manufacturers spared no effort in making their products stand out from the rest. Each high-end piece was as fascinating as the other.
In the world's second-largest economy, premium bathroom and kitchen products have seen rapid growth. In fact, China is now the world's fastest-growing market for these products. The kitchen segment alone grew 6.8 percent to 58.1 billion yuan ($8.8 billion) in 2015.
"Sales-wise, it's the third biggest worldwide after Germany and the US, and we can see China is catching up. Perhaps, China will take second place next year," said Thorsten Klapproth, global chief executive officer, Hansgrohe SE, Germany's bathroom fittings giant.
To make the most of the Big China Opportunity, Hansgrohe, which reported two-digit sales growth in China last year, put on display its top two brands, Hansgrohe and Axor, in Shanghai.
Klapproth drew an analogy to make a point: the two brands, he said, are the Porsche and the BMW of bathroom products.
The company also launched its key new annual series, called Metropol Classic, under its Hansgrohe brand. "The Shanghai exhibition is crucial for us to feel the pulse of the Chinese market. The growth rate here is outperforming that of other markets. We have high expectations from this market. That's why, our key products are making their global debuts here," said Klapproth.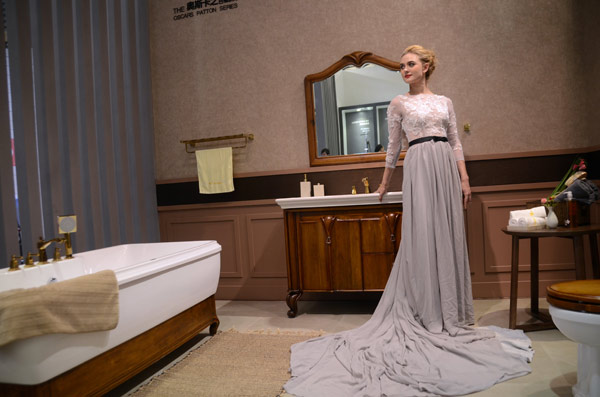 A foreign model lends elegance to a high-end bathroom stall at a bath and kitchen products fair in Shanghai last year. PROVIDED TO CHINA DAILY
Like Hansgrohe, another German bathroom supplies major, Villeroy & Boch, whose products exude European style, recorded high (22 percent year-on-year) rise in sales in China last year, much higher than the 5 percent growth globally.
Similarly, Gaggenau, a German luxury kitchen appliances brand, said its sales in China increased 15 percent last year.
It's not just the local neo-rich who are driving such high sales growth rates of foreign companies in China. Even the rapidly growing middle class is chipping in with its two cents, so to speak, persuaded by media discourse on aesthetics, modern lifestyle, style and quality.
Klapproth said high-end Chinese customers are already mature in their choices, while the middle class, especially those in their 30s who are well-educated and travel abroad often, display a different taste. The latter tend to buy products that are usually found in places like luxury ocean liners, the German Chancellery and the Burj Khalifa in Dubai, the world's tallest tower.
"They use iPhones, drive BMW cars, and wear clothes of Western brands. This is great for us as they are used to the world's first-class quality that we can guarantee as well. We believe this will be the trend in the long run," Klapproth said.
By the end of last year, Villeroy & Boch had more than 200 retail stores covering all the provincial capitals and first- and second-tier coastal cities in China. Hansgrohe has nearly 500 stores and showrooms across China.
For its part, Gaggenau said its main investments in China will be in sales and marketing. Three showrooms are planned this year. There, visitors would be invited to immerse themselves in a world of exclusive culinary culture and elements of sophisticated lifestyle.
The company said it put great efforts to spread a unique culinary culture and high-end lifestyle among the Chinese upper class. The latter, it said, have started to pay more attention to the quality of their life.
Klapproth of Hansgrohe said he does not share some businesses' pessimism on China related to slowing economic growth. The company firmly believes China will continue to grow this year, next year and in the years to come, he said.
"A year ago, we doubled our production capacity in China, so we invested a lot of money in our factory in Songjiang district in Shanghai's western suburb. Moreover, we're pouring a lot of money into logistics in the country to get our products faster to Chinese customers. We'll continue such endeavors because we'd love to grow," Klapproth said.
Last year, a designers' club for Axor, the other brand of Hansgrohe, was founded in Shanghai.
"We've experienced a sharp increase in demand from Chinese consumers for Axor products in recent years. Our goal is to work more closely with top Chinese designers to cater to consumers," said Ren Quansheng, president of Hansgrohe China.