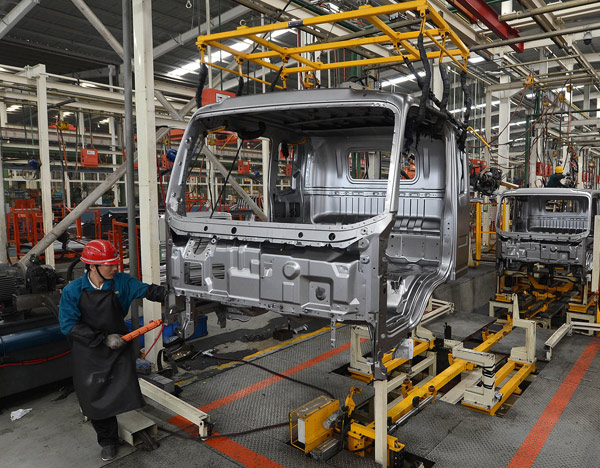 A production line of truck manufacturing factory in Chengdu, capital of Sichuan province. PROVIDED TO CHINA DAILY
China's truck manufacturers are keeping their eyes on international markets and on production upgrading as ways to deal with the industry's severe overcapacity.
"The level of globalization will decide the future of our company", said Ma Chunji, chairman of China National Heavy Duty Truck Group Co Ltd, also known as Sinotruk, the top exporter of heavy trucks. According to him, Sinotruk will export half of its total sales in the future.
The company will also speed up its spending on high-end markets, including targeting products for New Zealand and Ireland. It has upgraded its production line in the past two years.
The overseas business model of Sinotruk also changed from just sales and after sales services to assembling locally and cooperating with local firms. The company's next move is direct investment.
Sinotruk sold about 158,000 vehicles last year, among which 98,800 were heavy trucks. The company exported 27,000 vehicles, up 8 percent year-on-year.
Sales of China's heavy truck sector started to drop from 2011 to 2015, after reaching a peak of 1 million units in 2010, when the demand for infrastructure construction was huge.
Because truck production saw a capacity crunch in 2010, many truck makers started to expand capacity in 2011 and 2012. However, sales decreased following the downward trajectory of the mining industry and the real estate market.
Last year, China sold about 550,000 heavy trucks domestically and about 50,000 to 60,000 units to countries in Central and South America, Southeast Asia, Africa and the Middle East. Capacity was 1.6 million in 2015, much higher than sales.
"The whole industry is in trouble. The competition is rather severe, and everyone wants to export", said Jiang Yuxiang, vice-president of Shanxi Dayun Group, one of the country's leading private truck producers.
Jiang said his company will try to export more trucks in long term since domestic demand is down due to decreasing demand for infrastructure construction in industries such as real estate and high-speed rail.
In the short term, Jiang said Dayun will improve its competitiveness through avenues like marketing campaigns.
Zhang Yu, managing director of Automotive Foresight (Shanghai) Co, said both overseas expansion and product upgrading fit the country's current supply-side reform program. He said the truck industry in China will experience dramatic structural changes and product upgrading in the next five years, anticipating the implementation in 2020 of the Nationwide VI emission standard for heavy-duty truck and bus engines.