Starbucks coffee with QR code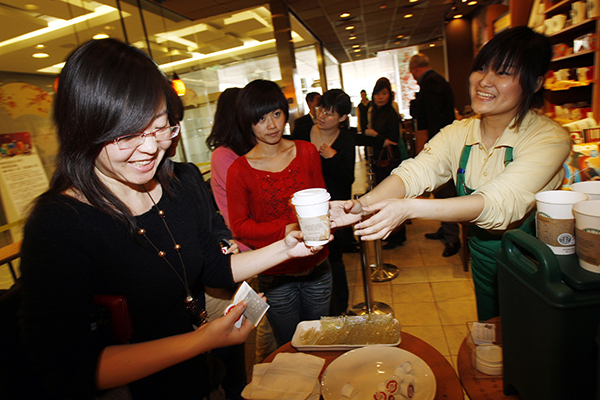 A Starbucks staff member hands out free coffee to customers at an event to mark the 10th anniversary of Starbucks' launch in China, at the company's original outlet in Beijing. [Photo/Agencies]
Beverage chain jumps on WeChat bandwagon, takes mobile payments
WeChat lets users text friends, post selfies and pay a gas bill with a smartphone. From Thursday, the blockbuster Chinese app, known as Weixin Pay in China, has also been used to buy a Java Chip Frappuccino.
Starbucks Corp said on Thursday it will accept the payments system at about 2,500 of its cafes across China, enabling customers to complete purchases with a scan of their phone. The agreement with Tencent Holdings Ltd means the Seattle-based chain joins foreign retailers, including KFC, Disney and Uniqlo, in embracing the cashless mobile payments ubiquitous in China.
About 200 million consumers use Weixin Pay and Alipay, the system owned by Alibaba Group Holding Ltd's financial affiliate, at physical stores because of the ease and speed at which consumers can make purchases. Some overseas retailers have balked at digitized transactions because of costs involved in changing payment systems and concern that data collected could breach customer privacy.
"Accepting mobile payment would unlock massive value for Starbucks," said Shaun Rein, managing director of China Market Research Group, in an interview. "Since they couldn't move customers through the line faster, they were losing 5 to 10 percent of business."
Starbucks China didn't immediately respond to emailed questions on its decision to adopt Weixin Pay. Its cafe competitor Costa Coffee began accepting mobile payments more than a year ago, around the same time as fast food chains McDonald's and KFC.
The announcement on Thursday is a relief for consumers like Tong Wei. The 32-year-old insurance executive said he was dismayed at the line snaking in front of a Starbucks outlet last week in central Shanghai's Lujiazui business district.
"The lines are always very long at Starbucks because people take so long to pay," he said. "If there was another option nearby, I wouldn't come here anymore."
It was a common complaint in China, where mobile payment is a big deal. Four out of 10 consumers use mobile phones to pay at physical retail stores and restaurants, according to research firm Emarketer, which forecasts that the proportion will soon rise to half.
Many consumers in China, especially those under 30, don't bring anything but their phones when they go out to lunch or shopping.
"It's a reality you can't ignore," said Chris Reitermann, chief executive officer of Ogilvy & Mather China. "Mobile payment is so big and so influential that you cannot not be part of it. I'm very sure that there's no retailer in six months in China that can afford not to accept it (mobile payment)-it's just too big."
With Starbucks having capitulated, fashion chain H&M of Hennes & Mauritz AB, which has more than 300 stores across the Chinese mainland, leads the pack of hold-outs, which also includes furniture store Ikea and Nestle SA's coffee-machine maker Nespresso.
H&M China spokeswoman Stella Zhou said that the company is "looking into the mobile payment systems, but our focus now is improving our own online platform." Ikea China's external public relations spokeswoman Vivienne Jia said that it is in the process of conducting trials of mobile payments in its mainland stores. Nespresso China declined to comment.
Cost and control are the main concerns keeping foreign consumer companies in China from accepting mobile payments, analysts and retailers said. For foreign chains, accepting Chinese mobile payment services usually involves an expensive upgrade to a point-of-sales system that can accommodate Weixin Pay and Alipay while also being compatible with their international systems.
"It's actually a huge dilemma for foreign companies what system they can use," said Ben Wong, a spokesman for Bindo, a point-of-sales system software that is compatible locally and internationally. "Native Chinese systems are incompatible with international systems, but if they keep the systems separate, there's too much loss of retail data."
New Zealand-based premium coffee chain Fuel Espresso took six months and about 50,000 yuan ($7,300) to accommodate Alipay in its Shanghai store, said store manager Jovi Chan.
Besides having to convince his New Zealand and Hong-Kong-based management of the necessity of accepting mobile payments in China, the store also had to convert to Bindo's software, install better Wi-Fi and open a Chinese mainland corporate account, among other measures, said Chan.
"It's a long-term investment," he said. "I felt that if we don't go in this direction now, there'll be a big problem in the future."
For giants like Starbucks, which is opening stores in China at the pace of more than one a day, the concern was over safeguarding the data of its customer base, said China Market Research Group's Rein.
"A lot of chains are concerned about too much user-data controlled by Alibaba," he said. "It's their customers, but now all the data goes to the mobile payment providers. There are concerns about confidentiality."
Starbucks had tried to popularize its own mobile payment system. In July, it launched pre-loaded Starbucks gift cards for members to pay via mobile devices.
Ant Financial, which owns Alipay, said that it signs data protection agreements with every merchant.
"All the rights to customer data are in the hands of the merchants, and each merchant's data is strictly separated," Ant Financial said in an email.
Bloomberg