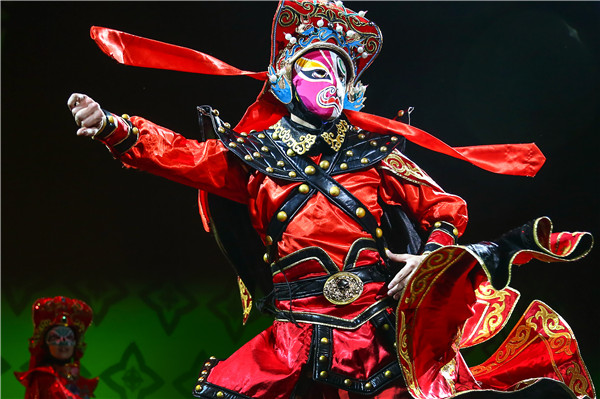 A barista from Chengdu, Sichuan, performs bian lian, a 300-year-old, traditional face-changing Sichuan opera dance, in Seattle, US. Eleven dancers, all employees of Starbucks China, staged the opening performance at the Starbucks meeting of shareholders.CHINA DAILY
Starbucks sees its cafes in China stimulating sales worth billions of dollars in recent years
At a recent Starbucks shareholder meeting in Seattle, Washington state, 11 baristas from Chengdu, 6,300 miles away, performed biàn liǎn, a dramatic, operatic art of Sichuan province.
More than 2,800 admiring partners, shareholders, invited guests and Starbucks board members watched in rapt attention as the artists in bright costumes and multiple masks performed, changing from one mask to another in the blink of an eye.
Their stunning performance took up a major chunk of the entire duration of the event, underlining the significance of the Chinese market to Starbucks.
The world's largest coffee chain had a 73.3 percent share of the top-end cafe chain market in China in 2015. It was followed by McCafe of McDonald's Corp (9.3 percent), Costa Coffee of Whitbread Plc ( 9 percent) and Pacific Coffee of China Resources Enterprises Ltd (3.9 percent), according to Euromonitor International data.
Kevin Johnson, president and chief operating officer of Starbucks, said China is now the company's second-largest market in terms of the number of stores outside of the United States. It continues to be the market that promises long-term opportunities for Starbucks.