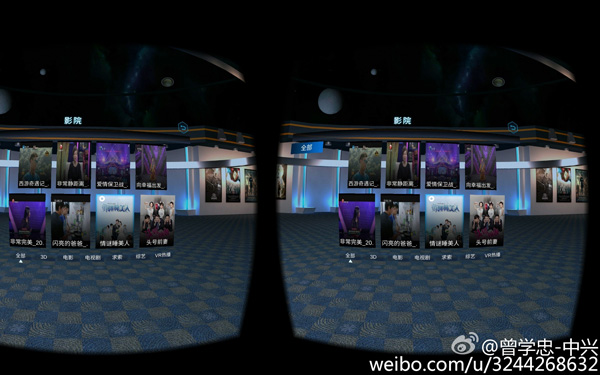 A picture posted on the Weibo account of Zeng Xuezhong, CEO of ZTE Mobile Devices, showing a possible display of the company's VR/AR device. [Photo/Sina Weibo]
Chinese smartphone maker ZTE Mobile Devices will soon tap into the nascent virtual reality sector and release its first VR product, according to a tweet posted on social media by one of its executives on Thursday.
Zeng Xuezhong, CEO of ZTE Mobile Devices, posted on Sina Weibo that users can expect the imminent announcement of the firm's second generation flagship AXON's display which will be equipped with the capability of a good immersive VR experience as it requires a Quad High Definition display.
"To all appearances, a 2K resolution screen of a smartphone seems unrelated to VR. But ZTE's smartphone development strengths in the area of display matter immensely, with its knowledge and know-how for the importance of dynamic color range, contrast ratio, and response time in order to offer a good VR experience," said Zeng.
According to ZTE, the company has been paying close attention to the research and development of VR and augmented reality (AR) technology for the past few years.
Earlier this year, Yu Yifang, vice president and general manager of China for ZTE Mobile Devices, also revealed to media that ZTE is closely monitoring and researching VR for mobile devices.
As an official member of the Open Mobile Alliance cooperation, the company said it has also actively promoted developing AR industry standards and power technologies.
By following in the footsteps of Samsung's newly-launched Gear VR at the Mobile World Congress held in February in Barcelona, Huawei unveiled its VR headset that works with its new flagship smartphone, the P9, earlier last month.
Lei Jun, founder of another major smartphone vendor Xiaomi Corp, has also claimed in January that a new research and development lab has been established by the company, aiming to expand its business wings into VR and the robotics sector.