Right after he wears a virtual reality headset, the visitor finds himself right in the brand-new car he is interested in and can even take a virtual test drive.
This scene is happening at the 14th Beijing International Automotive Exhibition being held from April 25 to May 4.
As VR technologies gradually mature, in this exhibition, auto makers such as Buick, Kia and SAIC Maxus are adopting them to help customers have a more in-depth and interactive experience of their cars.
In addition, British ZeroLight, the creator of the digital 3D car configurator, brings visitors the VR experience of supercar maker Pagani's Huayra.
"What I see is as clear as the real thing. And it is so amazing when I find the car suddenly floating around me. I can also use my control handle to pick up some component of the car to achieve a 360-degree full range observation. It is unbelievably real," said Fu Shuping, a staff member of Shenzhen Shanyi Advertising Co Ltd, the representative agency of ZeroLight in China.
By wearing the HTC Vive and other digital devices, visitors are provided with an interactive experience presenting the real-time 360-degree visualization of Huayra in detail.
"It is not only like watching a movie in the cinema, but also makes me feel that I am driving in that movie," a visitor told chinadaily.com.cn.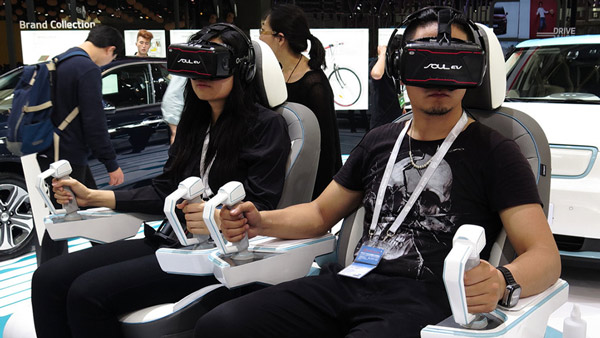 Visitors use virtual reality technology at the Auto China 2016 show in Beijing, April 25, 2016. [Photo/IC]