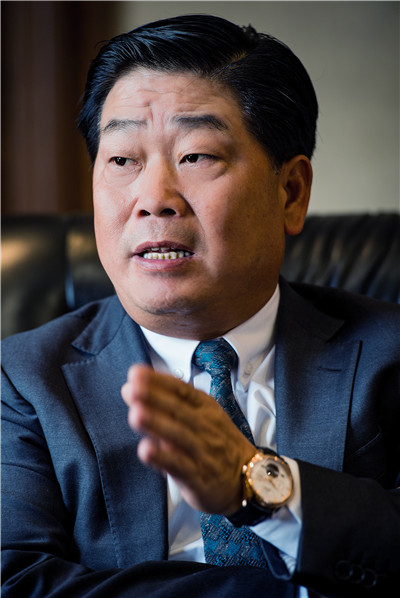 Yu Weijiao, chairman of Shanghai YTO Express (Logistics) Co CHINA DAILY
Shanghai YTO Express (Logistics) Co, China's third largest express-delivery firm by cargo aircraft number, will introduce at least three widebody air freighters to its fleet in 2018 to handle international delivery operations, its chairman said on Monday.
Yu Weijiao said the freighters will support the company's overseas parcel delivery service, cross-border e-commerce business and temperature-controlled supply-chain delivery services.
With a staff of more than 260,000 employees, 32,000 vehicles and 82 transit centers in more than 100 Chinese cities, YTO Express is the third Chinese express shipping company to have its own cargo aircraft, along with China Post's EMS and SF Express.
It is currently preparing an application for the supplementary international operations, which it will file with the Civil Aviation Administration of China and the International Air Transport Association by the end of August.
"There is growing demand for fast and efficient international express services between Chinese manufacturers and foreign buyers, especially in emerging markets such as Africa, the Middle East and South America," said Yu.
YTO Express also plans to help high-tech Chinese companies such Lenovo Group Ltd, ZTE Corporation and Huawei Technologies Co Ltd ship more parts and equipment to these fast-growing emerging markets, where they face stiff competition from rivals such as Dell Inc and Vodafone Group Plc.
Hangzhou-based YTO Cargo Airlines Co, one of its subsidiaries, ordered 20 Boeing 737-800 converted freighters in February.
It already owns five air freighters and operates five charter flights offering domestic air cargo services and it will own eight self-operated aircraft by the end of this year.
YTO Express opened branches in South Korea, Japan and Russia and Zimbabwe earlier this year, and plans to set up a total of 18 regional branches with warehouse and transit centers in priority markets such as Australia, New Zealand, Hong Kong and the United Arab Emirates by the end of the year.
"Many opportunities come from Chinese consumers' soaring purchasing power and their application of information technology, as well as urbanization, which have pushed the country's express delivery sector onto a par with more sophisticated and segmented markets," said Yu.
YTO Express delivered 3.3 billion parcels and documents domestically last year, a 30 percent surge on an annual basis.
Hou Hanping, a logistics management professor at Beijing Jiaotong University, said better technology, equipment and more capital will enable capable carriers to rise to the next level of service by carrying more high-end foods, chemicals, cosmetics and pharmaceutical products.
zhongnan@chinadaily.com.cn