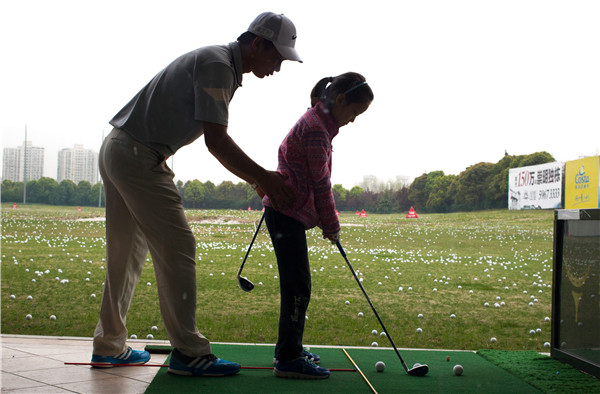 A girl practices under the guidance of a coach at the Yao Shine Golf School in Shanghai on April 9. A growing number of primary schools in the city have put the game on their curriculums as an option for PE lessons or as an afterschool activity.GAO ERQIANG/CHINA DAILY
When Zhang Lingxin was studying at the Hunan Golf and Tourism College in Changde, in Central China's Hunan province, his coach gave him a tip that changed his game: focus on the ball and aim long, but at the target, or the hole, not the ball.
However, last year, when the 23-year-old finished school and started looking for a job, he did the exact opposite.
Having spent a few months working as a caddie at a golf club in Guangzhou in South China's Guangdong province, carrying clubs and collecting balls for some of the country's richest businessmen, Zhang decided to change the focus of his career and aim for the most unlikely group: junior golfers.
"Before I applied to the golf college, my parents were concerned that I would not be able to make a living from my major. And I didn't want their fears to come true," said Zhang, a native of Huaihua, about three hours from Changde by train.
His decision to concentrate on teaching juniors came on the back of arguably the most dramatic change China's golf industry has experienced in the three decades since the game was revitalized as an essential leisure and networking activity by businessmen from Hong Kong and Macao.
Since late 2013, golf, along with extravagant wining and dining, has been a major casualty of President Xi Jinping's anti-corruption campaign.
China's golf industry experienced an abrupt suspension in 2014, and last year saw a significant decline for the first time since the 1980s, according to a white paper published in March by the Forward Group, a specialist golf management company based in Shenzhen, Guangdong.
The company estimated that there were approximately 390,000 "core golfers"-defined as those who play at least eight times every year-in China last year, a decline of almost 5 percent from 2014.
More than 100 of the country's 600 or so golf courses have closed, and about 50 percent of those that made the cut are in debt, the paper said.
Despite the bleak overall picture, one man in Shanghai is attempting to rescue "the sport that builds up a career as well as personality". Moreover, he plans to use his 10-year-old son and the boy's millions of peers throughout the country to achieve his aim.
"It could be a good opportunity to give golf a facelift in China. It has been wrongly associated with 'aristocrats' and corruption for too long," said Mi Yao, founder of the Yao Shine Golf School, where Zhang is now employed to coach juniors.