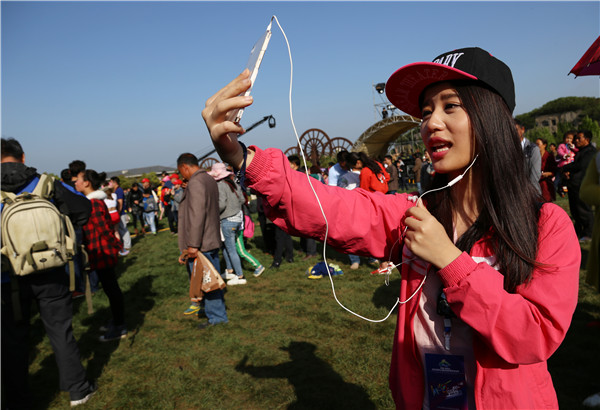 People, who are called "hosts", speak to their audiences through live video streaming platforms. The year 2015 witnessed an explosion of online live show platforms with a market value of at least 12 billion yuan ($1.8 billion).ZHANG WEITAO/CHINA DAILY
Interactive live video streams excite investors, performers, advertisers and audiences alike
If you do not yet know what live video applications are, you probably need to broaden your business ken.
Offshoots of live netcasts of gaming action, streaming apps have already attracted millions of yuan in investment. Existing players in this new business segment organize live online interactive events and programs that generate business worth billions of yuan.
Collective viewership runs into hundreds of millions across China. One estimate projects business from this segment will likely exceed 100 billion yuan in 2020.
A popular form of live streaming involves charming chirpy casual young ladies called, rather unimaginatively, "hosts". They sing, dance, yak, engaging their audiences via personal computers and mobile phones. High-resolution screens are not required to enjoy the streamed content.
A more professional form is so-called live entertainment. A small group of subscribers get to watch these shows, which are usually about technology, financial topics or even concerts. These require higher screen resolution to enjoy sharper picture quality.
Last year saw an explosion of such live streaming apps and platforms. More than 100 were available on Apple's app store by the end of 2015. YY is among the leading apps. It features beautiful young women. Douyu features online games. Ingkee specializes in entertainment.
Not unexpectedly, leading Internet companies have jumped on the streaming bandwagon.
Tencent Holdings Ltd, which already owns a leading online gaming firm, launched a live video streaming platform called Longzhu. It also invested 400 million yuan ($61.9 million) in Douyu in March.
Similarly, internet security and search company Qihoo 360 invested in a live video streaming platform called Huajiao.
Even online news labels have hopped into this space, making live video streaming technology integral to their media operations. For instance, 163.com, a popular online news provider, attracted 22 million viewers to its 2016 Spring Festival live travel show.