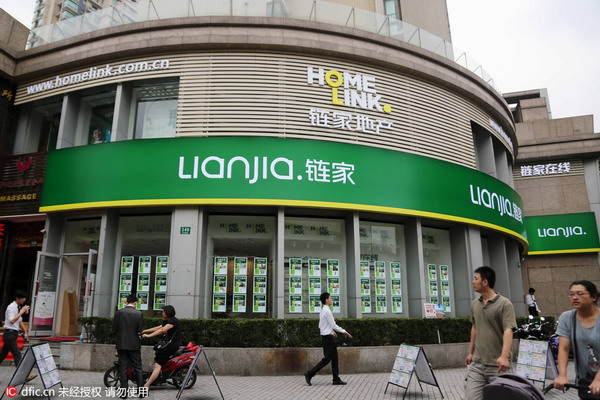 Pedestrians walk past a branch of Chinese real estate agency Lianjia, also known as Homelink, in Shanghai, Sept 20, 2015. [Photo/IC]
BEIJING - Chinese authorities are formulating measures to strengthen regulations on real estate agencies, which have become a major source of customer complaints due to misleading information.
The Ministry of Housing and Urban-rural Development is working with related departments on policies to regulate housing listings of agencies and strengthen management of brokers, vice minister Lu Kehua said at a press briefing on Friday.
The ministry also promised to improve credit information systems in the sector and step up supervision over real estate agency practices.
Fabricating housing listings and irregular fee charges are among the usual complaints filed by clients.
According to research from 2014, 43.8 percent of 30,000 people surveyed in Beijing said they had encountered "bad behavior" from real estate agents when renting apartments.
In an inspection last month, Shanghai regulators decided to issue fines of between 130,000 yuan ($20,000) and 200,000 yuan to six real estate agents, including industry leaders Lianjia.com and 5i5j.com for false advertising.