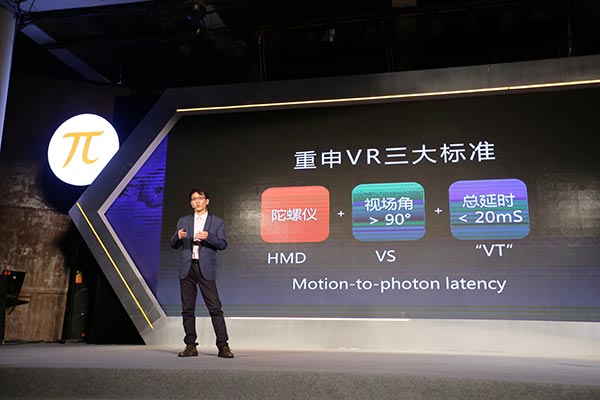 Weng Zhibin, CEO of Pimax Technology, speaks at the launching ceremony of the 4K VR device in Beijing on April 7, 2016. [Photo provided to chinadaily.com.cn]
Pimax Technology (Shanghai) Co Ltd, one of the earliest companies engaged in China's virtual reality (VR) industry, revealed the latest product, the world's first VR device with 4K resolution, in Beijing on Thursday.
Earlier this year, Deloitte Global predicted that VR will have its first billion dollar year in 2016, with about $700 million in hardware sales, and the remainder from content.
The expected boom in the industry has drawn tech giants from around the world to invest in the sector, including foreign tech titans such as Facebook Inc, HTC Corp, Sumsung Electronics Co and Sony Corp and domestic behemoths Alibaba Group, LeTV Holdings, Xiaomi Corp and Beijing Baofeng Technology.
According to industry consultancy iResearch Consulting Group, China's VR market revenues are expected to top 5.6 billion yuan ($866 million) this year, up from 1.5 billion yuan in 2015, and reach 55 billion yuan by 2020.
Pimax broadens the VR head mounted display's field of view to 110 degree, with large-caliber double aspherical lens of 53mm in diameter. In order to save the problem of the sense of vertigo, the product is equipped with dual gyroscopes and limits the motion-to-photon latency within 18 ms.
With the resolution of 3,840*2,160 pixel and a weight of 220g, the product is the clearest and lightest VR device in the world currently.
Weng Zhibin, CEO of Pimax Technology who has 18 design patents, proposed to redefine the VR industry threshold standard from aspects of gyroscope, field of view and the motion-to-photon latency, at the launching ceremony.
In order to make the device more affordable, Pimax will initiate a crowdfunding program on JD Finance on April 14, lowering the price at 1,699 yuan in China. The new product will be available from May.