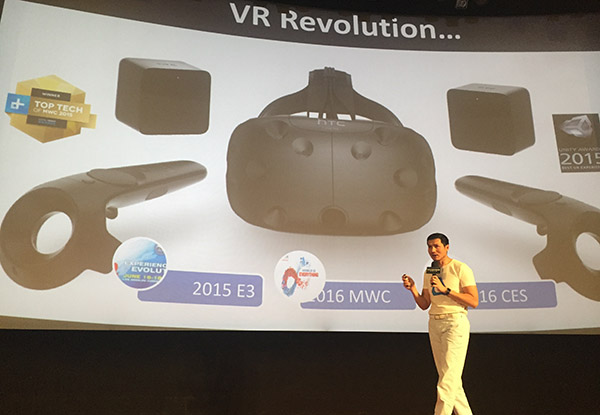 Alvin Graylin, China Regional President of HTC Vive, speaks at a Geek Park open course in Beijing on March 27, 2016. [Photo by He Yini / chinadaily.com.cn] 
China could become one of the earliest countries to ride the wave of virtual reality development and lead the tech revolution in the post-mobile era, according to industry experts.
"Tech revolution is speeding up now. I'm pretty confident that Chinese content developers could make a change in the VR field," said Alvin Graylin, China Regional President of HTC Vive - a VR product brought by HTC and Valve.
"Virtual reality is a level playing field where anyone with ideas has an opportunity and could become the next Bill Gates...It doesn't have to be a large team or a big company to start with," he added.
Graylin made the remarks during a recent open course held by Geek Park, one of the country's leading tech communities that gathers geeks, developers and investors.
VR is still at its infancy because everything about it seems imperfect, for example headsets are not that convenient, user experience is not that friendly, or content is not that rich, said Zhang Peng, founder and president of Geek Park, at the event.
But that's where the opportunity lies. Don't heed to sceptical voices because not everyone can see the chances, he said.
"A truly influential tech wave could let many down at first, but in the longer run it will remarkably change the way people live. Any technological breakthroughs in the field will trigger an exponential growth of user experience and bring the VR development to the next level," he added.
Earlier this year, Deloitte Global predicted in a report that VR will have its first billion dollar year in 2016, with about $700 million in hardware sales, and the remainder from content.
The unit will reach a market of $80 billion by 2025, in which 56 percent could be hardware sales, according to Goldman Sachs Global Investment Research.
"China may be among the earliest countries to adopt VR technology and is already the world's largest retail and household entertainment markets," said Po Hou, National TMT Industry Leader of Deloitte China.
"If you imagine that 10 percent of the middle class families and cinema chains are equipped with VR headsets, China can easily become the largest consumer-VR market in the world," he added.
"VR could penetrate every industry as it develops. We don't have to blindly follow the wave for the wave's sake," said HTC Vive's Graylin. "Anyone who wants to grab a piece of the growing pie should find something they are really good at and build a vertical ecosystem plus VR technology."
He reiterated that his company will endeavour to help Chinese developers create something new and really amazing to enrich the lagging VR content market.
During the open course, China's first industry report that offers a panoramic picture of the country's VR development was released by Wang Honglei, head of 90HZ - Geek Park's newly established media brand that focuses on VR unit.