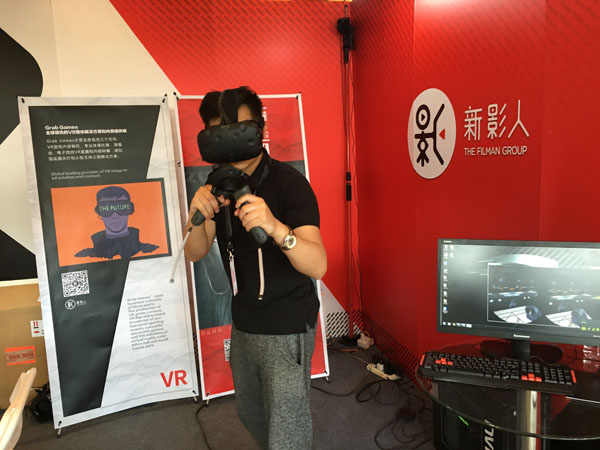 A visitor experiences VR game produced by Grab Games through VR head-mounted display HTC VIVE. Photo provided to chinadaily.com.cn
Countless virtual reality (VR) headsets have appeared in the country overnight, vying for attention, while China's burgeoning market has not yet to mature when it comes to tech bottlenecks, such as resolution, refresh rate and latency of the display, and more importantly, the content.
"Content building, such as developing high-profile films based on video games, will be a proper market entry point for developing the commercialization of VR sector," said Wang Jia, CEO of The Filman (Beijing) Investing Management Ltd Co, a finance service platform backed by NCF Group that initiated venture capital investment in the VR industry.
According to Wang, by rebuilding the film scenes and adding video games elements, VR device will provide an immersive experience for users.
The company recently signed collaboration agreements with American VR producing startup Grab Games during the Beijing International Film Festival, aimed at bridging the tech cooperation between the two sides' VR sectors and promoting VR content with Chinese elements in the rapid growth market.
Anthony Borquez, founder and CEO of Grab Games, said: "We feel there is an incredible opportunity for China's virtual reality market. In addition to the large population of mobile users, technology in China is advancing and VR is poised to be the next 'big thing'".
According to Borquez, regarding distribution of VR content, one of the key channels will be location-based centers, for example theme parks and shopping centers. China will be a key territory to take advantage of this early distribution model.
"In 2016, our goals with Filman will be to identify which VR content created by Grab Games will be best for the China market," said Borquez. "Additionally, we will be looking at China IP that we can adapt our VR technology and collocate on joint development projects."
Currently, the company is working with Filman on bringing their "Knockout" VR boxing games to China with a local recognizable boxing athlete named Zou Shiming.
According to Borquez, game design and mechanics will need to be modified in order for VR content to be consumed on both mobile, PC and Console platforms. In some instances, certain experiences will not translate effectively across all platforms, and it will influence the VR development efforts in the country.
According to a report released by iResearch Consulting Group, 51.1 percent of 2473 users, who participated in a survey conducted by the firm, considered watching videos as their most expecting function of VR, and as of this February, there were 2700 VR videos and 800 VR games developed in China.
"Future explosion of VR movies and VR concerts will make the VR devices step into the first-line of entertainment consumer electronic products," iResearch predicted.
"A plenty of investments and human resources have flowed into the hardware development industry while the insufficiency of high profile VR content are still not meet the demand of users," said Li Jie, senior vice-president of Youku Tudou, a Chinese Netflix-like video-streaming website backed by Alibaba Group Holdings Ltd.
According to the research of the company in recent two years, among the capital that invested in the sector, 52 percent are targeted on hardware R&D, 8 percent are used for advertising and marketing, 10 percent are focused on filming and motion tracking and position sensing technology development, 20 percent are engaged on building platform and portal and only 10 percent are used for VR content building.
Li predicted that the VR content will experience three waves in the coming three years. VR live broadcasting and maximum 15 minutes panoramic view short videos will become popular in game and entertainment industry since 2016. The next will comes from the one-hour documentary and micro-film, and finally, after two and half years' development, the real movie and television series that contributed by VR technology will hit the market.
Li Dai, head of LeVR, Chinese internet firm LeEco's subsidiary company, said: "Currently some of the enterprises are using VR as their marketing or advertising strategy while barely seen innovative ideas or companies that implement the tech in developing high profile content. "
By utilizing VR technology, the company is working on providing live VR broadcast for concert or celebrities and fans meet-ups events to give a chance for audiences to interactive with their idols "face to face".
In addition, LeVR is reportedly to launch a VR version of the upcoming documentary -- Great Wall, directed by Zhang Yimou in the end of this year.