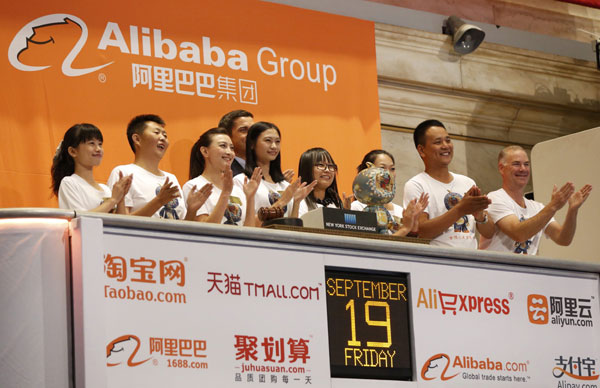 Alibaba employees applaud as the opening bell of the New York Stock Exchange is rung in New York September 19, 2014, its first trading day.[Photo/Agencies]
While its fourth quarter financial results announced on Jan 28 revealed that the value of products sold on its platform had risen a respectful 23 percent year-on-year to 964 billion yuan ($147 billion; 135 billion euros), they were also down on the 28 percent rise in the previous quarter. This led to the company's shares dropping 3.7 percent as the New York market opened.
Maggie Wu, chief financial officer of Alibaba group, remained bullish, however, saying the company's performance remained "excellent".
"We achieved impressive revenue growth as we are increasingly monetizing the user activity on our marketplaces, particularly on mobile devices," she said.