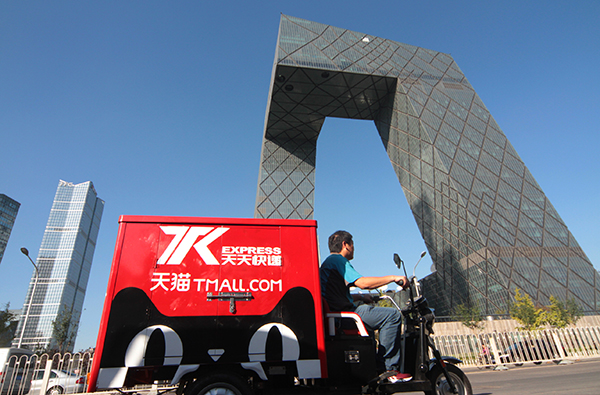 A delivery cart with the logo of Tmall.com, Alibaba's B2C platform, passes the CCTV building in Beijing. [Wu Changqing/China Daily]
On Singles Day, Nov 11, the company attracted some 115 million buyers to its platforms, which also include Tmall, generating sales of $14.3 billion.
The scale of the company was perhaps best reflected when it pulled off the largest IPO in US stock market history when it listed on the New York Stock Exchange in September 2014, raising $21.8 billion.
Jeffrey Towson, professor of investment at Peking University's Guanghua School of Management, says Ma is foremost in a generation of Chinese entrepreneurs, including Robin Li at China's Internet search engine Baidu and Martin Lau, president of Tencent, the company behind WeChat, China's hugely successfully instant messaging service, that have real ambitions to take on the world.
"The leaders of China's Internet companies are highly aggressive and highly competitive. They are seasoned entrepreneurs and risk takers in their prime," he says.
Alibaba, however, perhaps now faces more challenging times with the slowing Chinese economy affecting its performance.