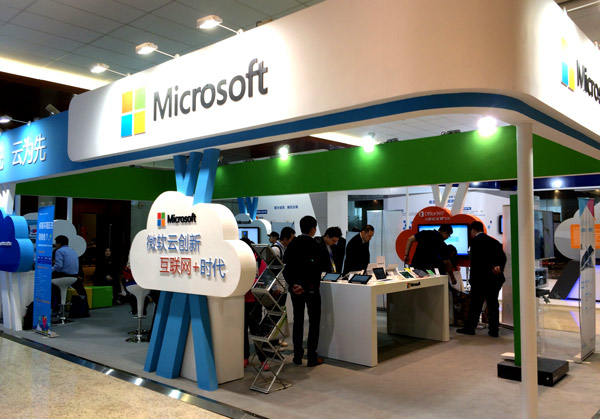 A booth of Microsoft China is displayed on March 31, 2015 during the Cloud China 2015 Forum held in Beijing. [Photo provided to chinadaily.com.cn]
Domestic and international technology companies have joined forces to take advantage of favorable government policies in Cloud Computing, the vice minister of Industry and Information Technology said during the Cloud China 2015 Forum in Beijing on Tuesday.
"Although many industries and enterprises have shown their thirst for developing cloud computing, the applications and solutions that utilize such technologies have existing challenges to conquer," said Huai Jinpeng, vice-minister of Industry and Information Technology (MIIT),at the opening ceremony of the forum.
Clouding computing is a type of computing that relies on sharing computing resources over the internet instead of using locally based resources. Cloud computing covers the sharing or using of different services such as storage, servers, processing power via the Internet.
According to Huai, following the popularization process of the 'Cloud', issues such as privacy protection, enterprises' business interests protection and the establishment of an equitable and objective resource sharing platform have come into the forefront.
China announced plans to implement the "Made in China 2025" strategy and develop the "Internet Plus" plan in March, with an aim to seek innovation driven development, apply smart technologies, integrate the mobile Internet, cloud computing, big data, and the Internet of Things with modern manufacturing, to upgrade China from a manufacturer of quantity to one of quality.
Smelling the business opportunities carried in the advantageous policies, enterprises that utilize the cloud computing distribution models, SaaS (Software-as-a-Service), PaaS (Plartform-as-a-Service) and LaaS (Infrastructure-as-a-Service), are all lured to grab a piece of the market share.
"The 'Internet Plus' is really addressing opportunities on the 'Cloud' sector," Ralph Haupter, corporate vice-president, chairman and chief executive officer of Microsoft Greater China Region told chinadaily.com.cn at the forum.
According to Haupter, Microsoft provides cloud computing service co-work with a its Chinese partner 21 Vanet, the largest domestic carrier-neutral internet data center services provider, to provide cloud computing services to the Chinese market.
"21 Vanet presents platforms and manages customers' relations for Microsoft," said Haupter.
He pointed out that the growth of the IT market in China is very fast, and the market has great interest in technologies and is very open to new technologies.
"Besides, it (the Chinese market) is huge and diverse on the multiple geographic provinces and capabilities," Haupter added.
Chen Wei, director-general of the department of software and information service of the MIIT, claimed that China's SMEs accounted for a vast proportion in the industrial structure. Among the enterprises, only 10 percent of them have applied for cloud services. According to Chen, there are huge opportunities for development in this sector, and the prospects are very attractive.
Windows Azure cloud services who are affiliated to Microsoft China, announced the launch of a strategic plan named "cloud invent" on April 1, to target consumers from small and medium-sized enterprises and start-ups.