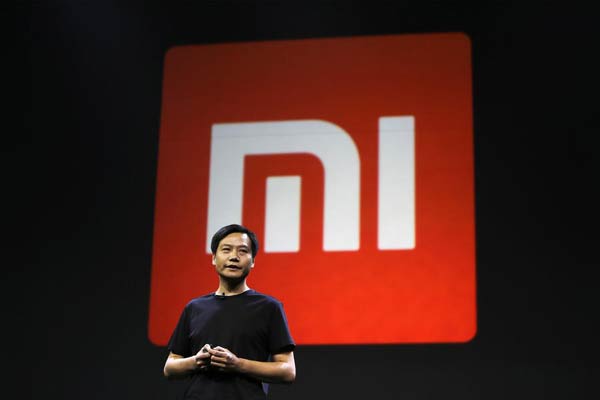 Lei Jun, founder and CEO of China's mobile company Xiaomi, speaks at a launch ceremony of Xiaomi Phone 4, in Beijing, July 22, 2014. [Photo/Agencies]
BEIJING - The buzz over whether Chinese smartphone up-and-comer Xiaomi can outshine global leader Apple reached new volumes as the company unveiled it's latest line of products ahead of their fifth anniversary on Monday.
China's leading smartphone vendor Xiaomi unveiled the Mi Note pink edition on Tuesday, a fashion device which is geared toward ladies, along with four other new products, including Red Mi 2A, Mi TV 2 and the new Mi Power Strip.
The move came six days ahead of Xiaomi's fifth anniversary on April 6 and on the eve of Apple's 39th anniversary on Wednesday.
However, Xiaomi's celebration was somewhat stunted by the news that Apple has usurped Xiaomi to become the best-selling smartphone brand in urban China.
For the three months ending in February 2015, the top three best-selling smartphone models in China were Apple's iPhone 6, the Xiaomi Red Mi Note, and iPhone 6 Plus, according to latest data from Kantar Worldpanel ComTech, a consumer research firm.
Meanwhile, iPhone 6's market share has increased to 10.2 percent from 9.5 percent registered in the three months ending January, with overall ios smartphone sales have reached a new record high of 27.6 percent.X Tamsin Timpson, strategic insight director at Kantar Worldpanel ComTech Asia, said Apple was able to grab the top spot not only because strong sales in its two flagships, but also the older models.
Despite Apple's strong performance, clues about Xiaomi's retreat from the top spot can be found through feedback of its fans.
While several women on microblog Weibo expressed excitement over Xiaomi's latest release, several were disappointed because of the pricing and quality.
One user, "Dearyouaremyonly", said the new Mi Note is "eye catching, but expensive", coupled with a crying emotion, while another user said she can only afford the Mi Power Strip after taking a look at the prices.
Titled the Mi Note Chinese edition with a codename of Goddess smartphone, Xiaomi failed to gain recognition from Weibo subscriber "Fanhua, shimeng" who commented that Goddess-like girls all use iPhones.
Although dubbed as the "Apple of China", the quality between Xiaomi and Apple are still worlds apart, with iPhones generally considered better in areas ranging from the operating system, core technologies to prices, sales and targeted consumers.