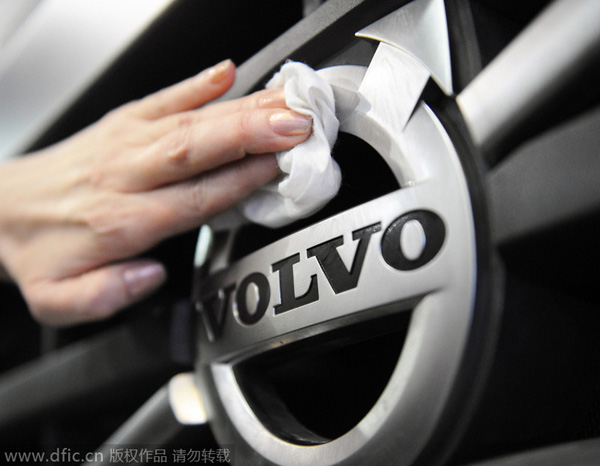 A worker scrubs the logo at Volvo Group's assembly plant in Kaluga, Russia, Jan 20, 2009. [Phoro/IC]
BRUSSELS - After a Chinese takeover in 2010, the Volvo plant in Ghent felt it had entered a new era wherein it could develop its own future and become more independent in making decisions, Volvo managers told Xinhua recently.
"We have never been as independent as we are now," Eric Van Landeghem, the managing director of Volvo Cars Ghent said. "In the past we were a department of a big organization, but after 2010, under Chinese ownership, we are now a car company and we can make decisions more independently."
"We saw production increase from 2010, and the number of employees has also grown. We also saw the atmosphere improve again, " said Mark De Mey, the public relations manager of Volvo's Ghent plant.
"It's a big change, because after the takeover by Geely, there was a new focus on creating value, a big difference from merely keeping costs down. We saw we could invest in new product again. That's really a very different and positive game," De Mey said.
No change in management and business models
De Mey told Xinhua that though it's been about five years since the takeover, there have been natural changes in the management, but the management and business models remain the same.
"Volvo is still an international company with its headquarters in Sweden. Though we are owned by the Chinese, but when comes to the brand image and brand values, it's very much Swedish," De Mey said.
While some car companies are closing plants or laying off workers, Volvo was not concerned about experiencing similar phenomena, according to De Mey. In fact, the company has designs to grow from the current volume of 400,000 cars to 800,000 cars, with 200,000 cars to be sold in China.
As for the challenges in the future, De Mey said there would be big changes in the coming years when the Ghent plant shifts from the current models to a new range of cars on a new platform. As of 2019, only the successor of the small models will be built in Ghent.
"It's a big challenge to change the whole system and build the new platform. That is we are now preparing and the major investment in the future. We are now starting to rebuild our production process," De Mey said.