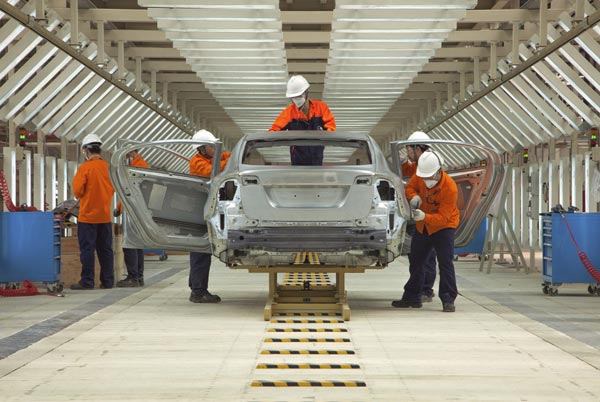 Workers on an assembly line at the Volvo factory in Chengdu. [Photo/Agencies]
New tailor-made S60 Inscription to be produced at Chengdu plant
Volvo Cars announced at the ongoing Detroit auto show that its just-launched S60 Inscription will be the first made-in-China luxury brand shipped to the United States when exports begin in the second quarter.
The Swedish brand acquired by Zhejiang Geely Holding Group in 2010 is also expanding its portfolio in the US market with the S60 Cross Country and all new seven-seat SUV XC90 R Design launched at the Detroit show.
"These two new products, added to the all-new XC90 unveiled in LA, are a further statement of our commitment to turn around our performance in the US," said President and CEO of Volvo Cars Hakan Samuelsson. "Overall we will launch seven new products in the US by 2018."
The China-made Volvo S60 Inscription is tailor-made for the US market, offering the driving experience American customers demand, according to news release from Volvo Cars China.
The S60 Inscription has 80 mm more legroom for rear passengers than the standard edition. The company said the class-leading rear space was consistently requested by US customers.
When Americans consider a car purchase, perceived low quality is the biggest limitation for Chinese vehicles, said a report by German research company GfK Group in November 2014.
Volvo Cars said the S60 Inscription was designed and developed at its facility in Gothenburg, Sweden and will be produced at its Chengdu plant, which itself was built to meet the carmaker's global standards.
It said there is no quality difference in its products made in China, Sweden or Belgium.
Along with the S60 Inscription, the Chengdu plant in Sichuan province makes a similar S60 L stretched for Chinese customers.
The facility has an initial production capacity of 50,000 units, which is expected to be expanded to 200,000 by 2020.