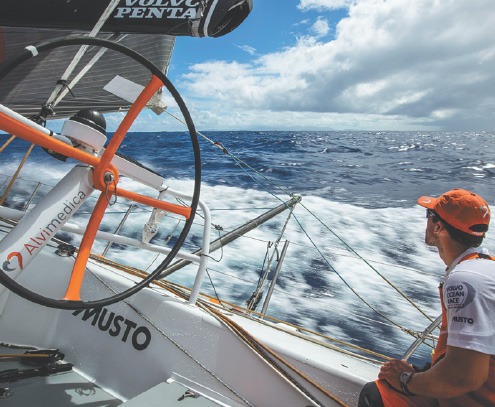 Amory Ross, a member of Team Alvimedica, sails for the around-the-world Volvo Ocean Race during the trip from Sanya in China to Auckland in New Zealand earlier this month. The race is sponsored by Volvo Group and attracts thousands of businessmen, sports fans, celebrities and the company's clients to visit camps in each stop. [Photo provided to China Daily]
More opportunities are round the corner, says Volvo CE chief
Sailing in strong winds, rather than in favorable conditions and managing to bring the vessel safely to port, is what makes a true sailor, says Martin Weissburg, president of Volvo Construction Equipment.
The president of the leading construction machinery maker says that combating the high winds requires extraordinary grit, perseverance and skill.
And, these are precisely the qualities that a good CEO also needs, says Weissburg.
His words could not have come at a more opportune time, considering that Volvo has been one of the few bright spots in the machinery making industry, which is reeling from dwindling demand and low product prices.
China's economic slowdown in 2014 has added to the woes for the industry, with growth slowing rapidly for several companies and product prices crashing.
Weissburg, however, wants the companies to take cues from the Volvo Ocean Race sponsored by Volvo Group. "The Ocean Race is a round-the-world race that challenges human physical limits and wisdom, while the economic downturn is something that will showcase real business leaders," he said.
Volvo CE, a subsidiary of Sweden's Volvo Group, will continue investing in its largest single market - China, much like a sailor determined to complete the voyage irrespective of the odds, said Weissburg.
"All the markets experience various business cycles. China is experiencing the downside of the cycle right now, something that is prompting companies to rethink their business strategies," he said.
"When the market recovers, it will be a much more stable business environment and we are confident that we will also be more stronger by then."
Weissburg's optimism comes in stark contrast to dismal performance reported by several global construction machinery makers during the fourth quarter of 2014, largely due to the slowdown in China.