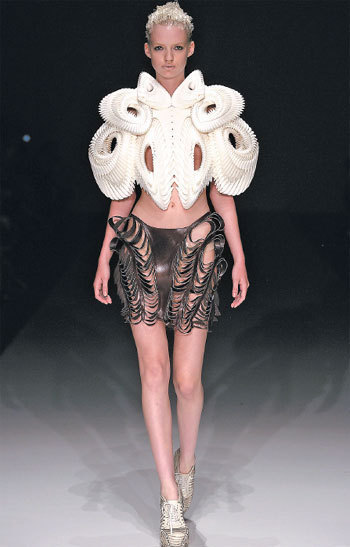 Dutch fashion designer Iris Van Herpen worked with Materialise NV to produce this outfit with 3-D printing technology. [Photo provided to China Daily]
Belgium-based Materialise sees bright prospects for the application of 3-D technology in China
It is not easy to be part of a company with a multitude of facets. But what makes the effort worthwhile is when the company is a longtime specialist and innovator in the field of 3-D printing and holds intellectual property rights to several pioneering technologies.
For Bart Van der Schueren, vice-president of Belgium-based Materialise NV, which provides 3-D printing software to industrial manufacturers and medical equipment makers across the world, however, the immediate task is something else. Though the company is present across several geographies, the real task for it would be to continue with its fast-paced growth in its fastest-growing market, which in this case is China.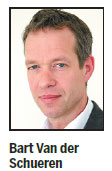 Van der Schueren knows that this is not an easy task, considering that he is pitted against some of the world's best as well as fast-emerging Chinese companies in the 3-D-printing segment. "The rapidly developing 3-D printing sector relies on technology that gives customers a brief glimpse of what the future is going to be," he said.
Materialise, whose customers include The Ford Motor Co and The Boeing Co, entered the Chinese market a decade ago, when 3-D printing was still in the early stages, with a facility in Shanghai. Though the facility was largely providing sales support services for the parent company in China, it became a fully owned unit last year with the addition of a research and development unit.
Explaining the concept of 3-D printing technology, Van der Schueren says that it is used to create solid objects from a digital model by laying down successive thin layers of material. Though the technology has been around for more than 25 years, it has started to catch the imagination of investors and customers only in recent years, he said.
Established in 1990, the Nasdaq-listed Materialise already has a footprint in Europe, North America, South America, and Asia-Pacific. Van der Schueren says that the company is aiming for an annual growth rate of about 15 to 20 percent in China and already has about 35 people working for it in Shanghai. Of this 10 are working exclusively in the R&D division, while globally about 30 percent of the employees work in similar functions.
On being asked about the delay in the company's expansion in China, he said that though Materilaise had toyed with the idea for several years, it got bogged down due to the slow progress on intellectual property rights issues in China.