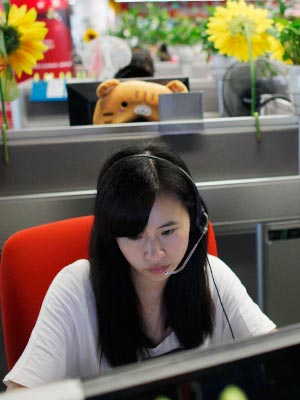 An employee talks on the phone at the call center of Alibaba (China) Technology Co Ltd during a media tour organized by government officials at its headquarters on the outskirts of Hangzhou, Zhejiang province in this June 20, 2012. [Photo / Agencies]
Alibaba Group Holding Ltd raised the price range on its initial public offering to $66 to $68 on Monday, reflecting strong demand from investors for the year's most anticipated debut and potentially the world's largest-ever IPO.
The Chinese e-commerce company, which handles more transactions than Amazon.com Inc and eBay Inc combined, has attracted investors keen to buy into the country's rapid growth and its evolving Internet sector.
The company and selling shareholders will now raise almost $22 billion at the top of the new IPO range. Alibaba remains on track to set an IPO record if underwriters exercise an option to sell additional shares to meet demand, overtaking Agricultural Bank of China Ltd's $22.1 billion listing in 2010.
Alibaba embarked on its roadshow for the IPO last week and attracted enough demand to cover its entire deal within two days, people familiar with the process said last week. Trading is expected to kick off this week.
The company and some shareholders previously offered 320.1 million American depositary shares at an initial $60 to $66 indicative range. It raised the price on Monday but left the number of shares unchanged.
Alibaba can still decide to price its IPO above the indicated range. But a source close to the deal told Reuters the final level will be "investor-friendly."
"Demand has been overwhelming since the launch," said the person, who couldn't be named because details of the IPO aren't yet public. "Increasing the price range was already on the cards from the beginning."
Reuters reported on Friday that Alibaba plans to close its IPO order book early, after it received enough orders to sell all the shares in the record-breaking offering.
Overseas expansion
Alibaba plans to expand its business in the United States and Europe after the much anticipated IPO, billionaire founder Jack Ma said on Monday as the Chinese e-commerce titan pitched its record deal to investors in Asia.
"After being listed in the US, we will develop our business in Europe and in the US," Ma told a packed group of journalists ahead of his presentation to investors. "We will not give up the Asia market because, as I would say, we are not a company from China, we are an Internet company that happened to be in China."
The investor luncheon took place in a huge venue at the luxury Ritz Carlton hotel. The hotel shares the same building as three of the main bookrunners of the IPO, just an elevator ride away from Credit Suisse, Deutsche Bank and Morgan Stanley offices, across the harbor from the city's financial center.
Fund managers and analysts were given orange bracelets to give them access to the banquet of smoked salmon, chicken breast and mango pudding. The event had two videos and a question and answer session with Ma answering most of the questions, according to investors at the presentation.
Missed opportunity
Alibaba picked New York for its debut after Hong Kong officials rejected its request to allow a small group of company insiders to nominate the majority of its board.
The request went against Hong Kong's "one share, one vote" principle, which has been staunchly defended by its securities regulator.
Ma, who is also Alibaba's executive chairman, said that the missed opportunity came about in part because of how Alibaba communicated its plans to local authorities, mirroring statements he gave last year.
"People say that Hong Kong lost the Alibaba deal. To me, I think it is Alibaba that missed this great opportunity to list in Hong Kong," Ma added. "We love Hong Kong. We will continue to love Hong Kong and invest in Hong Kong."
The company is expected to price the deal on Sept 18. It will start trading a day later.