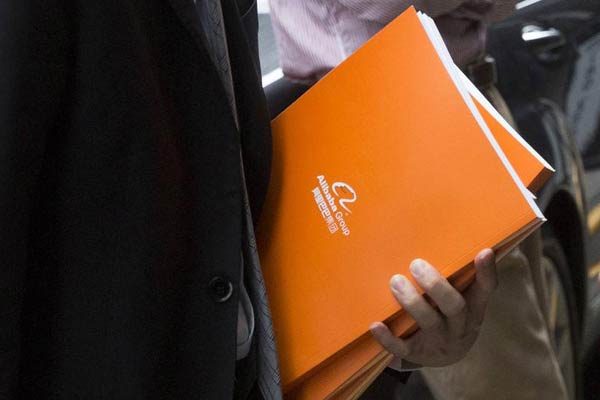 Representatives from Alibaba Group Holding arrive for the company's roadshow meeting in New York in this September 8, 2014 file photo.[Photo/Agencies]

Simon Xie
[Photo/alibabacapital.com.cn]
Inside Alibaba, where co-founders are revered like rock stars, relatively few employees know about the soft-spoken executive who for years kept his same cramped office, unfashionable clothes and the self-effacing demeanor of a metalworker's son.
But for investors in Alibaba Group Holding Ltd's potentially record initial public offering, Simon Xie, a co-founder and vice president, represents one of the e-commerce company's most important figures: he's the only individual besides Executive Chairman Jack Ma who owns the domestic Chinese companies and holds the operating licenses that underpin Alibaba's corporate structure.
Alongside Ma, who holds the lion's share of those domestic firms, Xie wields full legal sway over the onshore entities and the critical contracts that link them with the New York-listed vehicle.
Yet much remains unknown about Xie, and the unusual shareholding arrangement has puzzled even high-level insiders. Some employees, said a former executive who worked closely with Xie, jokingly refer to the unassuming 45-year-old as shoufu - or "top millionaire" - even though he is not among the very top Alibaba shareholders.
In 15 years, Xie has given just one published interview, to his hometown newspaper. He helps run - but does not lead - Alibaba's investment division and was not named in a recently published list of 30 managers who form Alibaba's steering committee. But the low profile belies Xie's status as one of Ma's most trusted business partners, multiple former executives and outside analysts say.
"Simon Xie is clearly the most important person in Alibaba who is not part of the steering committee," said Fredrik Oqvist, the Beijing-based founder and CEO of ChinaRAI, a consulting firm that advises hedge and mutual funds. "He pops up everywhere, yet he's elusive."
Alibaba declined to comment for this story, citing the quiet period ahead of its IPO.
Counting pencils
Interviews with friends and past co-workers, most of whom declined to be named to protect their relationship with Xie, paint a picture of a deep-thinking and earnest colleague who is treated like family by Ma, but who never climbed to the top of Alibaba's management ladder - a reflection of the company's cut-throat but meritocratic culture.
And even as his fortune soared with Alibaba's rise, Xie remained largely unchanged from the shy boy who grew up in poverty as one of four children in a town near the Zhejiang province coastline.
Xie was introverted and studious, an above-average student with a preference for math and science, said Chen Liangming, the principal of Rui'an Middle School who taught Xie in his politics class in the 1980s.
Xie ranked in the top-20 students in his class, but not the very top - "the kind of marks you'd expect from a student who has some creative ability," said Chen, who asked Xie in 2012 for an alumni donation, and received a 200,000 yuan ($32,630) gift.
After graduating in 1992 with a degree in engineering from Shenyang University of Technology in northeastern China and working for a telecoms company in Hangzhou, Xie agreed to join Ma at Alibaba in 1999 as its first chief financial officer.
He was remembered for keeping meticulous records of how many pencils and reams of paper were purchased, and teaching other employees how to use Microsoft Excel, said a person who worked alongside Xie for close to 10 years.
In 2000, as Alibaba looked for new office space, Ma clamored for an entire floor of a downtown Hangzhou building while Xie argued it would be wasteful. Xie won the debate, but Ma was proved right as Alibaba's headcount quickly mushroomed, according to "The Legend of Alibaba" by Sun Yanjun, a veteran business journalist who worked with Ma on his first start-up, China Page, in the 1990s.