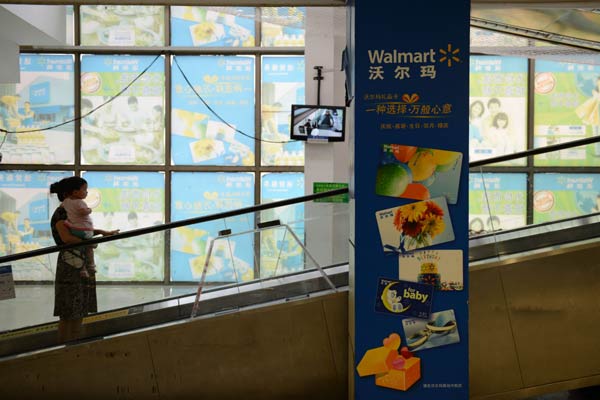 A Walmart store in Hangzhou, Zhejiang province. Wal-Mart Stores Inc has announced it is investing a total of 300 million yuan ($48.86 million) on food safety management in China between 2013 and 2015. DONG XUMING/CHINA DAILY
Wal-Mart's new delivery system addresses used oil, expired meat allegations
Wal-Mart Stores Inc announced on Thursday a series of measures to strengthen food safety in its Chinese stores after the world's largest retailer found itself again in the spotlight for firing Chinese staffers who accused it of food safety violations.
Wal-Mart's fresh food delivery network will cover all Chinese stores by the end of 2014, bringing to 11 the number of its fresh delivery centers in China, according to the company.
"We will expand the fresh delivery network along with developing more stores in the years ahead to ensure food delivered to every store is fresh and safe," said Paul Gallemore, chief compliance officer for Wal-Mart China.
Wal-Mart, which entered the Chinese market in 1996, is scheduled to open more than 100 stores in China over the next three years, according to the company.
Wal-Mart will also introduce third-party organizations to strengthen supervision, ensuring that all cooked food is either served or discarded in a timely fashion in its stores.
In June, Wal-Mart announced its investment in food safety management in China would top 300 million yuan ($48.86 million) from 2013 to 2015.
The measures were announced shortly after four workers at a Shenzhen Walmart store were fired about a month after they accused the retailer of repeatedly using cooking oil.
According to a Xinhua report on Tuesday, a video provided by a worker involved in the accusation showed that oil used for frying at a Shenzhen store was used for at least a month.
Some workers also claimed the store used expired meat and rice to prepare cooked food for sale.
In response, Wal-Mart said on Thursday that the dismissals were unrelated to the claims, stressing that firing workers was part of the company's routine practices in human resource management.
According to a senior manager at Wal-Mart China, two of the firings were related to the accusations.
Wal-Mart has more than 90,000 associates working in its Chinese stores, according to the statement, which said workers with severe violations of company policy and operational procedure will be fired.
Local law enforcement officers had conducted on-site inspections seven times at the Honghu Walmart store in Shenzhen, and related surveillance video had not shown any of the food safety violations alleged by the workers, according to the statement.
Zhang Junxiu, director of the Guangdong Food Industry Association, said retailers should strengthen supervision of food supply chains and provide more training for workers in preparing food for sale.
"Retailers, especially market leaders, should set an example by strengthening efforts in food safety supervision and creating a fresh and safe food environment for consumers," Zhang said.
Ray Bracy, senior vice-president of corporate affairs and sustainability of Wal-Mart China, called for closer cooperation with local government and suppliers to better ensure food safety.
"Most Chinese consumers worry more about food safety than the price. That's why we care so much about food safety in our China stores," he said.
In recent years, China has faced mounting food scandals, including the reported use of "gutter oil" and fake milk powder due to weak government supervision and overreliance on the food industry regulating itself.
"In such a laxly regulated environment, it is not realistic to solve the problem of food safety within a short period of time. We need to cooperate more with the government and our suppliers to tackle the problem efficiently," Bracy said.