Alibaba's impending IPO is one of the most talked-about stories in the world. Here is a selection of quotes from international and Chinese media.
"...at the valuation currently being discussed, Alibaba would be more expensive than more-established and better-known companies such as Google Inc. or eBay Inc."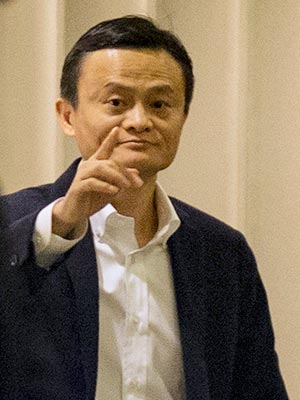 Jack Ma, the founder and executive chairman of Alibaba Group Holding, leaves following the company's road show in New York Sep 8, 2014. [Photo / Agencies]

Alibaba IPO: a big deal, and, backers argue, a real steal
-- Wall Street Journal, on Sep 12
"The most critical task Alibaba faces: Reaching the 500 million Chinese consumers who shop, chat, play games and basically run their entire digital lives on smartphones."
Alibaba IPO: Jack Ma's scrappy start-up takes on US
-- USA Today, on Sep 12
"For Alibaba, it was part of a continuing effort to make the instant gratification of global e-commerce accessible to China's expanding middle class. If the biggest Internet company in the world's most populous nation succeeds, it will make everything from culinary delicacies to flashy luxury goods available with a few keystrokes.
The degree to which Alibaba can deliver on this promise will help determine how much the company is ultimately worth and to what extent it can open up the enormous Chinese market to both global retailers and small businesses in search of growth."
Alibaba is bringing luxury, fast, to China's middle class
-- New York Times, on Sep 11
"As so is told by many brokerages, there's always chance for [Chinese] retail investors to grab a bite of Alibaba's IPO. To secure this opportunity, one has to be well-loaded and have some luck.
If you want to be Alibaba's shareholder, most of brokerages will require $1 million as liquid asset in your account and a minimum subscription of $400,000. Still, no guarantee for a successful allocation."
How could retail investors grab a bite of Alibaba shares
-- Caixin, on Sep 12
"Though Chinese consumers have driven Alibaba's financial success, they'll largely be left out of the company's stock offering."
Chinese gripe at being left out of Alibaba's $21 billion IPO
-- Bloomberg, Sep 15
"Alibaba is a 'hybrid' under the context of globalization. It reveals the financial development in China and its immeasurable potentials, while at the same time exposes shortcomings of Chinese venture capitals and difficulties for companies to seek domestic financing. Alibaba is a real 'multinational' company in the internet age. It has been seeking best opportunities globally and grown into 'first of the world'."
-- Global Times, May 8