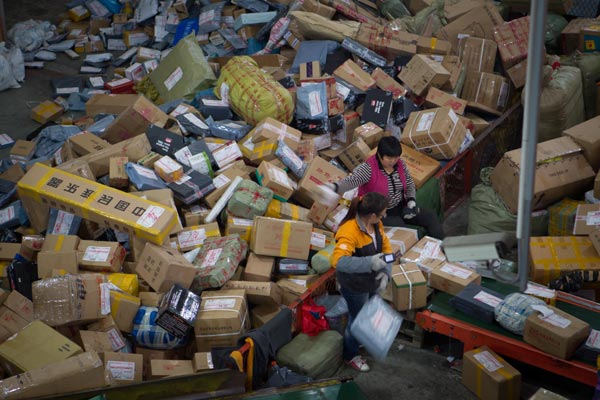 Workers are almost inundated by packages at a logistics center in Shanghai, two days after the annual online shopping spree on Nov 11. Gao Erqiang / China Daily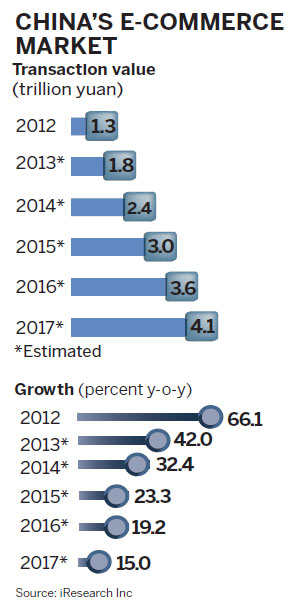 Taobao, which was founded in 2003, did not confirm the number of online retailers on its platform nor its revenue, but industry experts estimated the site has at least 8 million shops.
The huge number of e-retailers and their vast number of products could, ironically, pose headaches not just for stores but also for shoppers.
"More and more online shoppers prefer business-to-customer (B2C) platforms rather than C2C platforms such as Taobao due to the former's better product quality and better services. So the shrinking C2C market is another reason for Taobao's e-retailers to move to other platforms," said Wu Sheng, an analyst with the Beijing-based Internet consultancy Analysys International.
He said that with Alibaba choosing to list its shares in the US, the company will further crack down on fake goods on Taobao, which will hit some e-retailers.
Statistics from iResearch, an Internet consultancy, showed that the C2C market accounted for 64.9 percent of China's 1.85 trillion yuan online retail market in 2013 but the growth momentum of B2C was more than twice of C2C market's growth of 30.9 percent in the same year.
The size of China's B2C market is going to overtake the size of C2C's in 2017, iResearch predicted.
Kelland Willis, an associate analyst with Forrester Research, a US-based consultancy, said that the C2C landscape in China has been inflated as a result of a lack of other appealing online offerings.
"We see that consumers are starting to understand and appreciate the value that other B2C websites, like Tmall, JD and the brand's own direct approach to consumer sites offer. This isn't a result of Taobao performing poorly, but a result of more competition entering a space where there wasn't any for a long time," said Willis.
Alibaba, which built its business empire upon e-commerce, is clearly aware of the changing landscape. The company officially named its B2C site Tmall in January 2012 after it was spun off in June 2011 from Taobao.