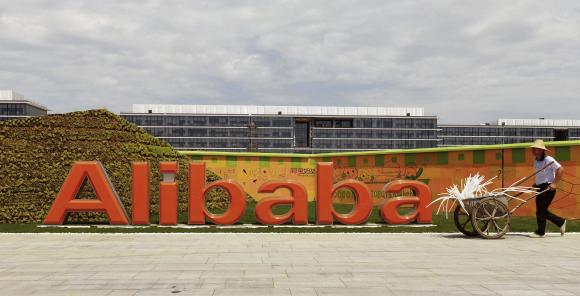 A worker walks past a logo of Alibaba Group at its headquarters on the outskirts of Hangzhou, Zhejiang province, August 24, 2013. [Photo/Agencies]
Alibaba, the world's biggest e-commerce company, changed how China shops. Now the man driving its blockbuster US stock sale wants to transform the rest of the country's services industry, adding new users to the giant's 300 million customers.
Joe Tsai, executive vice chairman of Alibaba Group Holding Ltd, sees an Alibaba future that stretches from banking to education, travel to entertainment. Customers will buy mutual funds using Alibaba mobile applications, safeguard homes with Alibaba insurance, and use Alibaba virtual credit cards to order goods from US websites that will arrive on China's doorsteps in 10 days.
On March 16, Alibaba said it's planning an initial public offering in the US Analysts say it could be worth more than $16 billion. That would surpass Facebook Inc's 2012 listing, valuing Alibaba at over $140 billion.
"In five to 10 years we're still going to be an e-commerce business, but the kind of things we sell on our platform will be a lot more diverse than just physical products," said Tsai in an interview with Reuters days before the IPO announcement.
"We're going to be selling digital content, there's going to be services that will flow through our platforms," he said. "Our vision is to become more a part of people's lives and fulfill all of their needs."
Alibaba already accounts for about 80 percent of all online shopping by individual consumers in China, which iResearch expects to reach 2.45 trillion yuan ($394 billion) this year.
If Alibaba has seemed unstoppable in its 15-year rise, an IPO that could make it one of the world's most important technology companies comes as the firm faces its most serious challenges so far.
Chief rival Tencent Holdings Ltd has the upper hand in mobile services, now the most important battleground for Chinese Internet companies. Alibaba's strategy of building a global e-commerce empire with its own financial services is attracting close scrutiny from China's regulators and resistance from the country's banks.
There's more riding on Tsai's ability to pull off the giant IPO than just Alibaba's fortunes. Tsai found out himself, after Facebook's debut flop, that a high-profile failure can turn investors sour on a whole sector: In what he termed a "hairy" experience, an Alibaba plan to raise $10 billion in private funding that coincided with Facebook's listing nearly went awry as investors backed away from Internet companies.
Sharp tactician
Tsai declined to discuss specifics of Alibaba's IPO or its finances but on March 12 he told Reuters Alibaba would "never" change its partnership structure to list in Hong Kong.
Alibaba's revenue climbed 60 percent to $4.9 billion for the nine months ended September, the latest period for which numbers have been published, according to filings by 24 percent shareholder Yahoo Inc. Net profit was $2.2 billion, a near eight-fold increase.