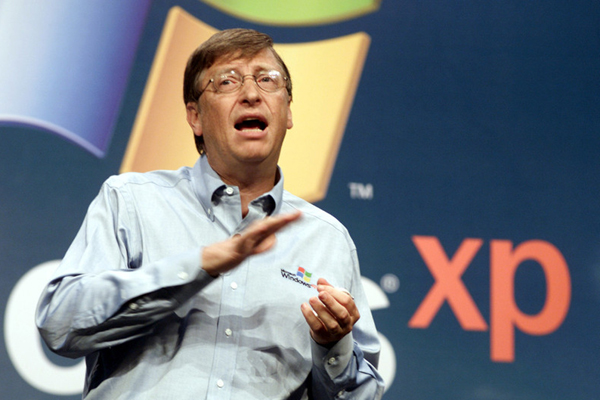 Microsoft chairman Bill Gates speaks during the product launch of the new Windows XP operating system in New York, Oct 25, 2001. Microsoft will end support for its still popular Windows XP from April 8, 2014. [Photo/dfic.cn] 
Thirteen years later, the wrinkles have not only increased on the forehead of Bill Gates, but have also started to appear on the face of first generation users. It seems a proper time to say goodbye to the XP age, while it's not...
After April 8, 2014, technical assistance, including automatic updates that help protect PCs, will no longer be available for Windows XP, according to Microsoft. The tech giant will also stop providing downloads of Microsoft Security Essentials for XP.
Since the announcement by the Seattle-based company, media has seen a rush of stories to describe that the issue is still need to be fixed and people are not really looking forward to the XP's farewell party.
Questions are being raised in online forums on whether the passing away of Windows XP will hurt China's information security sector, especially when many companies have structured their products that support XP users. In China, millions of users are still using the software, and that means security risks will exist for a long time.
"The service-end of Windows XP is an important information security factor in China," said Ni Guangnan, an academic at the Chinese Academy of Engineering.
Development of localized operating systems can be separated in two steps. First, Windows 8 will not be a feature in government procurements and no PCs in government or major industries will be upgraded to Windows 8. Second, more technological support will be developed to enhance the security of Windows XP users in China during this transition period while home-made systems will replace the XP in the end, according to Ni.
According to a community survey conducted by China Internet Network Information Center, 55.5 percent of office PCs in China are currently using Windows XP while the number is a little bit higher for personal PCs at 48.68 percent. Due to the expected increase in security risks after Microsoft stops supporting XP, office PCs will see faster upgrading than home ones said the survey.
However, more than 57 percent personal PC users among the respondents said that they would rather have a wait-and-watch approach than take any action to minimize security risks.
According to a poll conducted by Sina Weibo, a Chinese social networking site, 26,389 users said they will continue using Windows XP, far more than the 7,756 who said will turn to new system.
To help users tackle any issues arising after the post-Windows XP period, Chinese online security firms are providing many products. Rising has launched protection strategy and tools to mitigate Windows XP's system vulnerability.
Tencent PC Manager has also launched a plan to hedge against system bugs and the company will cooperate with Kingsoft, Sogou and other Internet security firms to provide a collective defense mechanism to their users. China's famous anti-virus provider Qihoo 360 Technology Co Ltd has jointly worked with Microsoft to promote Windows 8 by offering discount code to its users.
Meanwhile, Chinese anti-virus and information security companies are hoping to see the sale of security tools to hit 5 to 6 billion yuan ($806 million to $967 million) during the transition period, said Zhang Yi, CEO of iResearch, an Internet consultancy.
By ending the old system and promoting the newly launched Windows 8.1, Microsoft, thanks to its massive user base, appears to be a big winner in the market.
Around the world, Net Applications's figures show that as of March 2014, that Windows XP still had a market share of 27.69 percent while Windows 8 and its up-to-date version Windows 8.1 had a share of 11.3 percent, up only 0.62 percent. With 48.77 percent share, Windows 7 still remains on the top.