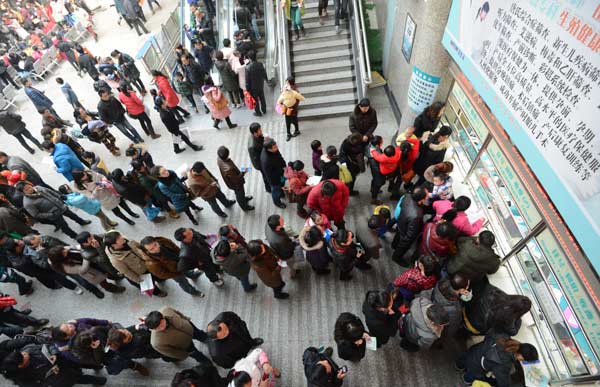 Parents queue up for registration at the Wuhan Children's Hospital on Jan 13. Healthcare is seen as an industry that is a bright spot for investors in China. [Photo / China Daily]
As China's economy matures, the bulk of foreign investment may be shifting to consumer-related businesses, said Tim Craighead, director of Asian research at Bloomberg Industries.
The Goldman Sachs veteran, who now provides insight into Asia's gaming, travel, hotel and air cargo industries, said investors' focus must evolve along with China's economic development.
To his mind, basic materials and production have been a bonanza for investors in emerging economies, as shortage of basic goods are not uncommon there, while the need for cash has made banking in such regions and countries a good business.
But as the economies have moved into a more developed stage, and people gain disposable income, investors' strategy should be more domestic consumption-focused.
In this light, investors have to be sensitive to the torrent of change in China's economy as the country enters the "upper-middle-income" club, as defined by the World Bank.
"We do feel there is a very good long-term positive fundamental story in Chinese consumers," Craighead said.
"Whether it's the gaming industry or the growing online business, many sectors seem well-positioned to take advantage of growing incomes," he said.
He identified healthcare as an industry that is a bright spot both in terms of demographic change in the country and government policy focus. Last August, China issued a special document to woo private investors, including foreign ones, to cash in on the nation's budding senior-care industry.
Renewable energy is another area Craighead singled out, as the country is thirsting for a cleaner environment.
Chinese citizens' rising income and purchasing power also showed their potent power in the booming technology industry last year.
"It is interesting to note that China's tech industry is clearly one of the best last year from a stock market performance perspective," Craighead said. "The driver for that is a 'Chinese consumer story', whether it is phones or TVs."
Among the phone and TV makers, many production facilities have moved inland, he said. Part of the reason, initially, was a search for cheaper wages.
But since wages have risen in central and western China, the main reason now, according to Craighead, is "you can produce and sell there".
"That is a whole different dynamic than was the case 10 or 15 years ago, when China's cheap commodities and products were sold to Walmart stores. Now it is becoming a bigger story that arguably is more sustainable," he said.
But although tech companies are doing quite well right now because of the 'Chinese consumer story', Craighead cautioned that from an investor viewpoint, those stocks might not be the best option.
The reason, he said, is simple: A good company does not necessarily make a good stock, while a bad company does not necessarily make a bad stock.
"You can have a very good company with very good growth. But everybody knows it. That makes the valuation very high, and that may not be a very interesting stock from our point of view," said the investment bank veteran, who for 21 years worked at Goldman Sachs, where he managed the Investment Review Committee process for the company's US research department.
He explained that his job on the committee was to find "out-of-consensus viewpoints". Because 80 percent of an analyst's work might be in line with a consensus point of view, his edge was to identify that 20 percent that was "out of consensus".
"That is where you can have real impact," he said. "You can have a terrible company, a terrible industry. Everybody thinks it is horrible. But it can be a massive stock if your view that the stock is going to turn ends up being correct."
An example of this is in the metals and mining business, which is called a "cyclical business" by industry analysts. There are times in the long cycle when it is a terrible business, and other times, it is a fantastic business.
"The same holds true with the airlines industry, which has a high capital investment threshold and is very operationally leveraged," Craighead said. "There are points in the cycle when it is a bad business, and everybody thinks it is lousy, but when it turns, the stock can be huge."