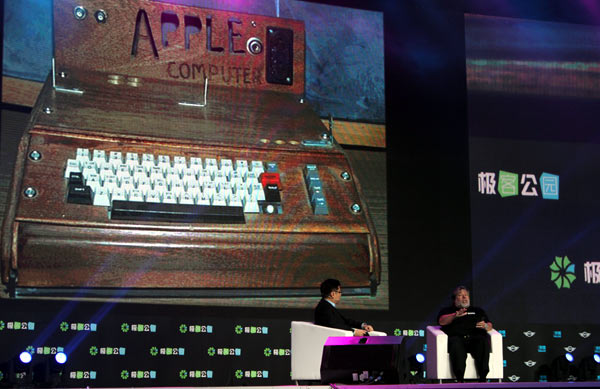 Steve Wozniak, co-founder of Apple, talks with Zhang Peng, founder of the Geek Park online community at the Geek Park 2014 Innovation Festival on Jan 11, 2014 in
Beijing
. The background screen shows a picture of Apple I, which was hand-built by Steve in 1976. [Liu Zheng / chinadaily.com.cn]
Steve Wozniak, co-founder of Apple, was the honored guest at a technology forum Jan 11 at the 751 D-Park gallery in Beijing's 798 Art Zone.
The event, Geek Park 2014 Innovation Festival was jointly organized by the Geek Park online community, MINI China and Business Value magazine.
According to Zhang Peng, founder of Geek Park online community, this is the first time that Steve Wozniak visited Beijing. Before attending the event, Wozniak choose Zhongguancun Science Park, a Beijing technology hub known as China's Silicon Valley, as his first stop.
During the forum, Wozniak talked with Zhang about Apple's early years and working with Steve Jobs. He also talked about the company's current product lineup and said he is not quite satisfied with the iPhone's battery life.
Later, leaders from a variety of busineses and industries shared the "geeky" side of their personalities and described their personal ideas and expectations on Internet development in China. These included Robin Li, CEO of China's Internet giant Baidu, Li Shufu, chairman of Geely Automotive Holdings, parent company of the Swedish luxury carmaker Volvo, Lei Jun, founder of Xiaomi and Hong Huang, publisher of China's fashion magazine iLook. Other experts in the Internet industry, modern agriculture development and even from rock-and-roll voiced their opinions. 
The activity attracted thousands of network engineers, tech geeks and Internet start-up entrepreneurs who participated in several question and answer sessions with the experts.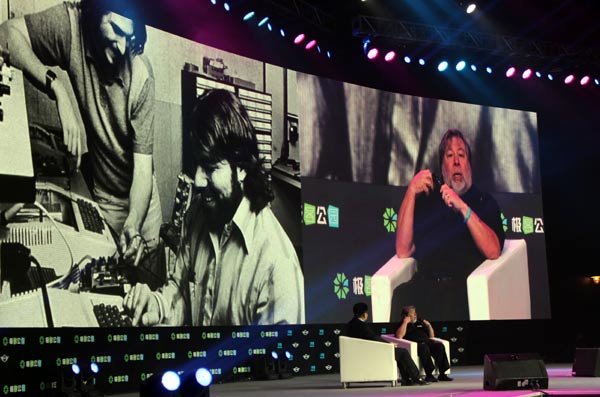 Steve Wozniak, co-founder of Apple talks about his working experience with Steve Jobs during the company's early years at Geek Park 2014 Innovation Festival on Jan 11, 2014 in Beijing. [Liu Zheng / chinadaily.com.cn]