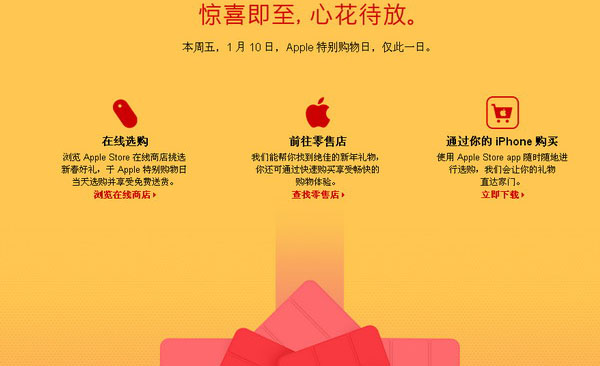 A screenshot of an advertisement on Apple's Chinese website, Jan 8, 2014. [Photo / apple.com] 
Apple Inc will launch a special shopping day for Chinese consumers on Friday, promising discounts on some of its products.
According to an advertisement on Apple's Chinese website on Tuesday, the company is going to provide customers with discounts for products including iPhone handsets and iPads. No further details on the promotion were released.
Chinese buyers can enjoy Apple's favorable marketing policies on the company's website, 10 flagship Apple stores in Beijing, Shanghai, Chengdu and Shenzhen, or through use of the Apple Store application, the advertisement said.
Apple launched similar promotions before the 2013 Chinese Spring Festival. It cut the prices of MacBook products by 700 yuan ($115.70) and lowered the price of iPad 4 by 300 yuan.
Meanwhile, Apple will open its fourth flagship store in Beijing on Friday. The new store is located in China Central Place, in Beijing's Chaoyang district. It is the 10th Apple store to open on the mainland.