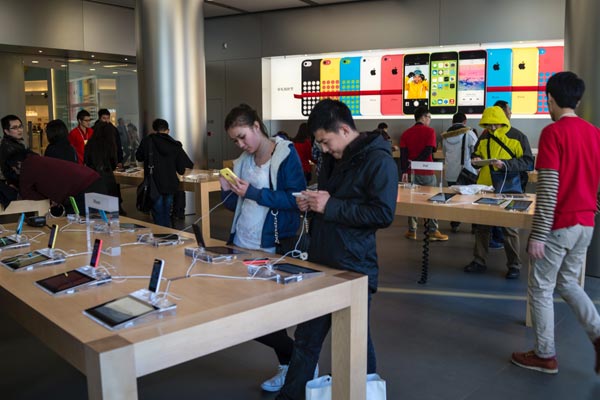 Young people try out the latest Apple products in Beijing. Experts said iPhone sales in China may rise from a range of 2.7 million to 2.8 million per month to a range of perhaps 2.8 million to 2.9 million. Provided to China Daily
China Mobile Ltd's push of Apple Inc's iPhone device sales is likely to face a further challenge from rivals in China, as China Telecom Corp Ltd slashed contract prices for iPhone 5S and iPhone 5C handsets running on its network starting on Monday.
China Telecom's Beijing branch announced that it would decrease contract prices for both the iPhone 5S and iPhone devices. The subsidized price of a 16-gigabyte iPhone 5S with a monthly minimum service fee of 189 yuan ($31.23) was lowered by 800 yuan.
The price of the same handset that has a minimum monthly charge of 289 yuan was decreased by 1,288 yuan. These prices apply to two-year contracts.
"China Telecom's move will essentially have a negative impact on the sales of China Mobile's versions of iPhone devices," said Sandy Shen, an analyst with research firm Gartner Inc.
She pointed out that Chinese consumers are price-sensitive in general and telecom carriers' subsidies for iPhone handsets will influence consumer behavior.
China Telecom's market initiative may be an immediate reaction to Apple's alliance with China Mobile, the nation's biggest telecom operator with a user base of more than 760 million.
China Mobile said it started online pre-orders on Dec 25 and is preparing to offer iPhone handsets running on its network starting on Jan 17.
A report from Wedge Partners, an independent equity analysis company, suggested that China Mobile's entry might "rob" iPhone sales from competitors China Telecom and China Unicom (Hong Kong) Ltd.
However, the net result may be a rise in total sales of the iPhone in China, from a current rate of 2.7 million to 2.8 million per month, to a range of perhaps 2.8 million to 2.9 million per month, according to Zhang Jun, an analyst with Wedge Partners.
"It is clear that China Mobile's pre-order activities have affected other channels' iPhone 5S and iPhone 5C sales," Zhang said in the report. He said when China Mobile launches the iPhone with a clear subsidy package, non-China Mobile iPhone sales on the open market and by other competitors will drop to 35,000 units per week and 1.4 million units per month.
The initial market feedback has shown that demand for the iPhone 5S at China Mobile stores appears to be lower than for other carrier phone launches. Pre-orders for China Mobile's iPhone 5S, with a contract, in the first two days were about 100,000 units, compared with China Unicom's 120,000 pre-orders and China Telecom's 150,000 pre-orders earlier in 2013, Wedge Partners said. It added that the iPhone 5S has been sold in the Chinese market for a while and people are losing interest in the model.