Yang Yuanqing was never afraid of declaring war on the strongest enemies.
After beating Hewlett-Packard Co to take the No 1 position in the global personal computer industry, Yang, the chairman and CEO of Lenovo Group Ltd, can't wait to challenge Apple Inc and Samsung Electronics Co Ltd.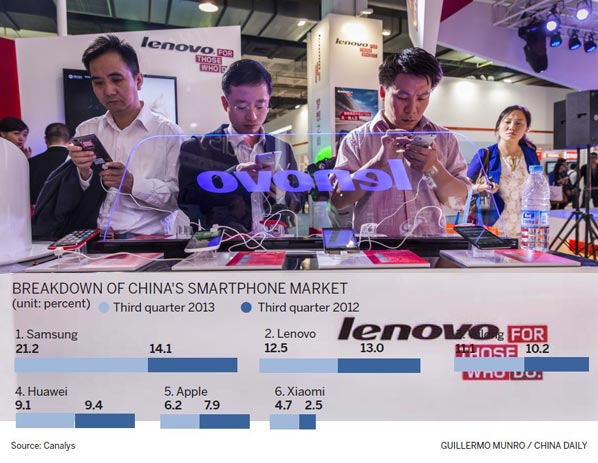 "Traditional PC vendors are no longer our top rivals nowadays," said the engineer-turned-executive. "Our next step is to challenge Apple and Samsung in the portable consumer electronics sector."
Over the past five years, Lenovo eroded other PC manufacturers' market share bit by bit, reaching the top position in China first and then in the rest of the world. Yang is determined to copy this strategy on a new battleground.
The biggest campaigns Lenovo launched in 2013 were for its smartphone and tablet series.
The Beijing-based company invited basketball sensation Kobe Bryant and Hollywood star Ashton Kutcher to endorse its high-end smartphone and tablet products in a bid to lure young Chinese buyers.
The company came out with most of its flagship gadgets just before Apple unveiled its iPhone 5S and iPad Air devices.
Lenovo has sold 1 million Yoga-branded tablets since the product's launch in October, according to Yang, who also plans to bring Lenovo's consumer electronics to developed markets such as the United Kingdom and the United States.
The company sees the smartphone market as a stepping stone to enter other mobile consumer electronics markets because of its popularity in both emerging and developed markets.
According to a Gartner report, Lenovo was the world's third-largest smartphone manufacturer in terms of market share as of the third quarter of 2013.
The company sold nearly 13 million smartphones around the world, taking more than 5 percent of global market share.
Yet the Chinese company still lags far behind Apple and Samsung in terms of shipments.
Asia-Pacific markets are poised to post huge increases in smartphone sales as more buyers abandon feature phones for lower-end smartphones.
Don't miss