Chinese car makers and internationl brands' joint ventures are continuing to expand in the country and the world through increased investments in the development of independent brands and expanding capacity. The following are the major moves made by these car makers.
No 10, Qoros Auto debuts in Geneva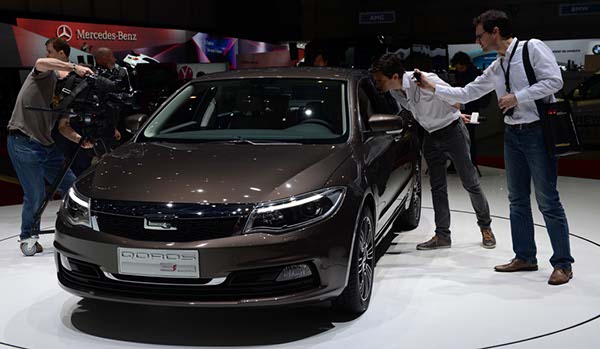 Qoros unveils its first series of models at the Geneva auto show in March last year, aiming at discerning young buyers in China and Europe. [Wang Siwei / Xinhua]
Qoros Auto - the new independent carmaker from China - made its public debut in March at the Geneva Motor Show by unveiling the first in a series of new models aimed at discerning young buyers in China and Europe.
The 50-50 joint venture established in 2007 by China's Chery Automobile and Israel Corp presented the world premiere of its first production vehicle, a four-door compact car, the Qoros 3.
The company also unveiled two concept models - the Qoros 3 hybrid and Qoros 3 estate. It is aimed at competing with similar models from Volkswagen and Toyota.
Qoros will produce the sedan in Changshu, Jiangsu province, with an initial annual production of 150,000 units, rising to 450,000 units a year in future.
Boasting an international team with major design input from nine different automotive brands, Qoros plans to launch another new model in six to eight months.
The company said Qoros is dedicated to delivering high-quality cars in line with international standards through its unique business model.
In November, the company announced the prices of Qoros 3 - ranging from 119,900 yuan to 167,900 yuan. It will release the second production model at the approaching Geneva auto show in March.
More stories & pictures: