Riding the wave of big bargain buy-ups
Updated: 2013-10-14 06:31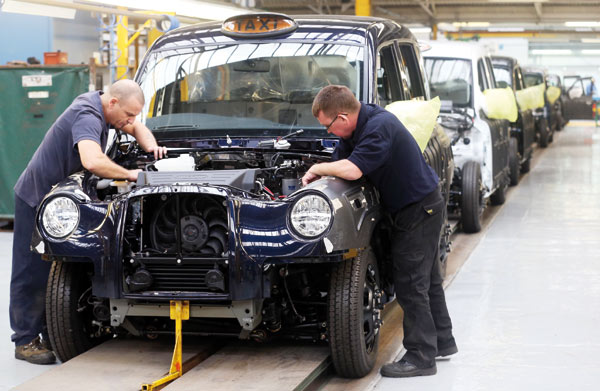 The assembly line at London Taxi Co's factory in Coventry, England. Geely Automobile Holdings Ltd restarted full production of the iconic London black cabs on Sept 11. [Photo / Provided to China Daily]
Private push
China's privately-owned companies are following in the footsteps of State-owned and sovereign wealth funds in making acquisitions in Europe, says a report published by global consultancy firm PricewaterhouseCoopers LLP in March.
The report says a growing number of Chinese private equity firms are now shifting their focus to overseas mergers and acquisitions, as opportunities to invest in China's capital market diminish.
"Although it is still early days, this shift has a big influence on deal-making between Chinese and European companies in the years ahead," the report says. "It may make the M&A arena even more competitive and also bring more investment opportunities to those watching out for them," the report says.
On top of deals already completed, the true level of acquisition interests is perhaps better reflected in the number of potential deals being speculated on in recent months.
Examples include the Chinese lender ICBC's interest in acquiring Standard Bank's commodity trading arm in London, and Qingdao D&D Investment Group's interest in machine tools manufacturer 600 Group, to name just two.
Lu of EcoLeap says typical opportunities for this type of acquisition lie within the "mid-market" sector, where the size of investment ranges between 10 million pounds ($15 million) and 100 million pounds.
"Compared with investments in larger target companies, these mid-market opportunities would bring Chinese companies controlling stakes without much capital injection. This means they can incorporate niche technology gained into their existing production facilities, then gain market entry into Europe for their own products."
According to the biennial Euro-China Investment Report published by the Antwerp Management School in Belgium, investment from Chinese companies helped create or preserve about 100,000 jobs in Europe during 2011 and 2012, when the continent's economy was hit by a downturn.
As of January this year, there were 7,148 companies in Europe with Chinese investment that employed 123,780 people. A year earlier, there were only 4,525 such companies with 27,381 employees, the report said.
"We found that China's investment in Europe surged by almost any measure in 2011 and 12," says Zhang Haiyan, head of the research team and academic director of the university's Euro-China Research Center. "China's story of investment in Europe is still unfolding."
Marcus Shadbolt, a partner at the China-focused financial advisory firm Vermilion, says: "The growing number of Chinese acquisitions in the UK is a natural evolution.
"After the financial crisis, China became very large in terms of its share of global GDP growth. At the same time, certain European markets have a shortage of capital for investments. These markets provide good conditions for transactions, where Chinese companies can provide capital to European businesses and also help them access growth in the Chinese market.
"It's definitely a win-win situation, because fundamentally you're marrying market access and capital with brands and technology. This is what Western companies have been doing over the last few years. Chinese groups are now deploying the same rationale," he says.