Wanda Group looks to the horizon
Updated: 2013-07-09 06:13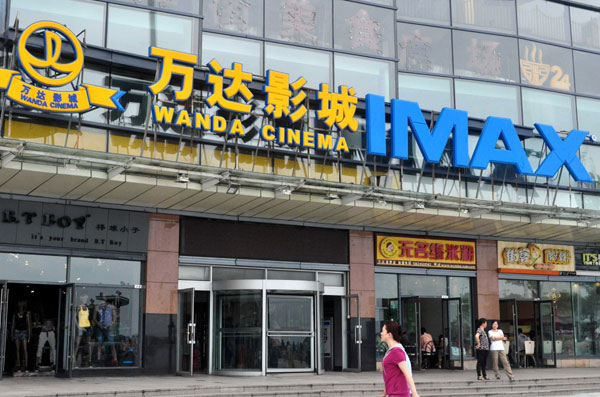 A Wanda Group movie theater in Harbin, Heilongjiang province. The group operates 69 Wanda Plazas, 38 five-star hotels, 57 department stores, 6,000 cinema screens and 63 karaoke outlets. [Photo / China Daily]

China's largest private property company plans a major expansion into overseas markets, report Meng Jing and Lyu Chang.
After building dozens of five-star hotels, cinemas and department stores, China's second-richest man has decided to increase his conglomerate's presence in the UK with a project that will transform London's skyline.
At a news conference in one of his own five-star hotels in Beijing last week, Wang Jianlin, founder and chairman of Dalian Wanda Group, announced the acquisition of British yacht maker Sunseeker and the plan to build a 200 meter-high luxury hotel at London's South Bank in a 1 billion pound ($1.54 billion) investment.
The company said it will acquire about a 92 percent stake in the Dorset-based Sunseeker for 320 million pounds and will spend 720 million pounds to build a five-star hotel, which it said will be the "first Chinese luxury hotel overseas".
Wang said the UK investment plan is a major step in Wanda's international expansion, following the company's $2.6 billion acquisition of AMC Entertainment Holdings, a move that created the world's largest cinema owner.
"The overseas operations are expected to have a major say in our group's overall turnover by 2020," said Wang, whose corporation in 2012 reported revenue of 142 billion yuan ($23 billion) and paid the most tax of all private companies in China.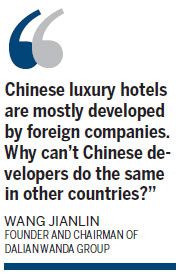 The property tycoon, who is ranked 128th on the 2013 Forbes Billionaires List with net wealth of $8.6 billion, chose June 19, a date which is written 619 in numerals, to hold the news conference, which was a lavish event hosted by two bilingual professional anchors and featured sequin-clad dancers and British singers.
"Six is traditionally associated with smoothness in China; nine has the same pronunciation as the Chinese word for 'long'. By announcing the deals on this lucky date, we hope our company can smooth its future development and live for a very, very long time," Wang said.
Moving fast
Asked why Wanda was interested in buying a yacht company, he said his company, which also has resort and tourism businesses, plans to build three yacht clubs in coastal cities in China, each of which would require at least 10 yachts to operate.
"Rather than buy 30 yachts, it is more worthwhile to buy a yacht company," he said. The Wanda group, which operates 69 Wanda Plazas, 38 five-star hotels, 57 department stores, 6,000 cinema screens and 63 karaoke outlets, and has several resorts under construction, bought a rocket-shaped Sunseeker Predator 108 Special Edition, which was featured in a James Bond movie, in 2010.
As well as the UK deals, Wang also announced plans to build more high-end hotels in about 10 major cities around the world in the next 10 years. The next one, in New York, is expected to be announced in September.
"Chinese luxury hotels are mostly developed by foreign companies," Wang said. "Why can't Chinese developers do the same in other countries?" He said Wanda will take a "steady approach" to its overseas expansion, while in China it is expected to open 16 hotels this year alone.
Wang is renowned in China's real estate sector for the speed at which his projects are completed. Lan Hongbo, standing vice-director of Wuhan's investment promotion bureau, said that local governments in China are very keen to attract investment from Wanda Group, not only because their commercial projects, such as shopping malls and cinemas, stimulate consumption, but also because the company "moves fast".
Wanda Group has developed six plazas in Wuhan, Hubei province. The construction of the 1,500 meter-long Han Street, a commercial complex in the city's central culture district, took only eight months.