Outbound M&A activity mounts up
Updated: 2013-03-11 09:18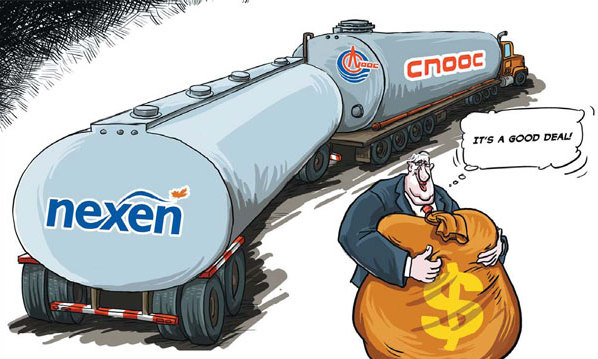 CNOOC Ltd's $15.1 billion takeover of Canadian oil and gas company Nexen Inc, first announced in July 2012, was completed last month, marking China's largest-ever successful overseas acquisition. [Photo/China Daily]
Venture capital and private equity play increasingly important role
Outbound mergers and acquisitions were an unknown concept to many Chinese companies before 2008 when the financial crisis engulfed the global economy and caused many overseas assets to depreciate against the yuan, making them more affordable.
Failures and successes proved to be valuable experiences for Chinese entrepreneurs, developing their deal-making skills, said industrial experts. Many predict growth in M&As will continue to be strong in 2013, especially in the manufacturing sector in the European market.

Although the number of deals dropped unexpectedly, the value of outbound M&As by Chinese mainland companies grew on an annual basis by 54 percent to reach a new record high of $65.2 billion in 2012, according to a report by PwC released this year.
The report said privately owned enterprises took on larger deals last year.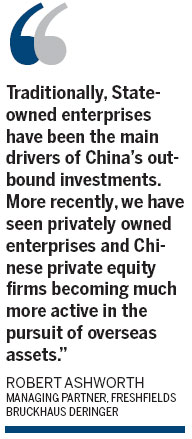 One of the largest POEs deals in 2012 came when Chinese entertainment conglomerate Dalian Wanda Group Corp paid $2.6 billion for AMC Entertainment Holdings Inc, the world's second-largest theater chain.
AMC's investors included Carlyle Group, Apollo Global Management and Bain Capital.
"We worked closely with Dalian Wanda to make sure that government officials at the state level and local level in the United States welcomed the investment and understood it was positive for them," Carlyle Managing Director David Marchick told China Daily.
Marchick said that it was a good example of communications because the company's chairman Wang Jianlin met government officials at different levels and made a firm commitment that Wanda would be a good cooperative partner.
Wanda retained the AMC management and let Hollywood know it would continue to buy its films. Employees were assured they would have a prosperous future with the company.
Other large outbound M&A deals included CNOOC Ltd's $15.1 billion takeover of Canadian oil and gas company Nexen Inc, Appliance maker Haier Group Corp's offer of 869 million New Zealand dollars ($702.7 million) in September to buy Fisher & Paykel Appliances Holdings Ltd and China's Wanxiang Group's bid of $260 million for assets of US-based car-battery maker A123 Systems Inc.
"It was obvious that privately owned enterprises made a difference in the Chinese outbound M&A market in 2012. The sectors in which deals were made were more diversified and the integration of the assets for Chinese buyers was more challenging," said Leon Qian, transaction services leader at PwC Northern China.
Qian took part in one of the earliest Chinese outbound M&A deals. He announced in February 2003 that BOE Technology Group Co had acquired a business division of South Korean manufacturer of thin-film transistor liquid crystal displays HYDIS Technologies Co for $380 million.
Qian told China Daily that many of the foreign companies Chinese investors bought in 2012 have operations in different countries so it is challenging to deal with multinational issues.
"Traditionally, State-owned enterprises have been the main drivers of China's outbound investments. More recently, we have seen privately owned enterprises and Chinese private equity firms becoming much more active in the pursuit of overseas assets," Robert Ashworth, a managing partner at international law firm Freshfields Bruckhaus Deringer, told China Daily.