Outbound M&A activity mounts up
Updated: 2013-03-11 09:18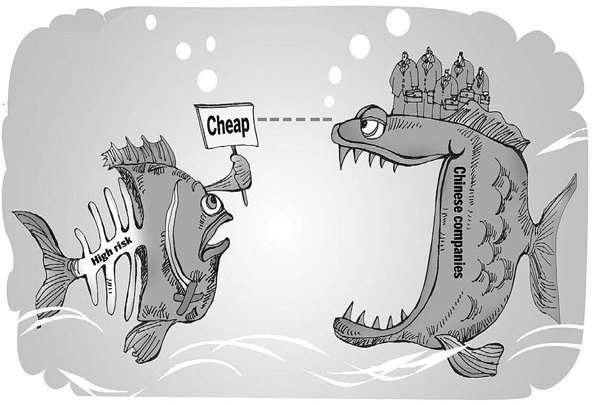 Despite the innate investment risk, many Chinese companies are keen to buy cheap assets overseas. A recent PwC report showed there are many outbound M&A deals by Chinese companies in the pipeline. The report predicts another record year in 2013 for mergers and acquisitions. [Photo/China Daily]
Europe challenged North America as the most important overseas destination for Chinese buyers in 2012. The importance of mature Western markets reflects the search for advanced technology and know-how, the PwC report showed.
Prospects
Asian deals declined sharply, primarily due to a fall in Japan transactions from 16 in 2011 to just 3 in 2012.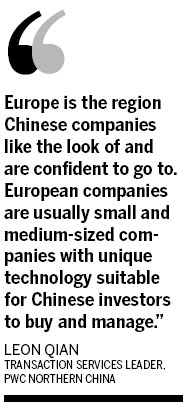 Ashworth said assets prices in the West have fallen. At the same time, China is rebalancing its manufacturing-oriented economy and developing its service sector.
"So we expect to see an increasing number of Chinese companies buying internationally not just for financial reasons but because it makes good business sense - whether to grow market share, acquire a complementary brand or build out a business offering," Ashworth told China Daily.
The PwC report said there are many outbound M&A deals in the pipeline. The accountants expect this growth will continue strongly, creating another record year in 2013.
"Chinese privately owned companies including TCL will continue to be positive in 2013," said Li Dongsheng, chairman of Chinese leading electronics manufacturer TCL Corp.
TCL was an early starter in terms of going abroad to look for mergers and acquisitions. As early as 2003, TCL and Thomson SA of France announced the creation of a joint venture to produce televisions and DVD players worldwide.
Although the integration of the two companies met many problems, Li said they garnered useful experience. TCL will continue its globalization strategy utilizing its professional talents.
"Outbound M&As help a company to step on to the global stage, demonstrate it is an industry leader and maintain its competitiveness," said Li.
Li said there are opportunities for mergers and acquisitions with South Korean, Japanese and Taiwanese businesses but careful evaluation should first be made.
"Europe is also a good destination," said Li. " There are not many M&A opportunities in the United States but cooperative opportunities exist."
"It seems Europe is the region Chinese companies like the look of and are confident to go to," said Qian of PwC Northern China transaction services leader. "European companies are usually small and medium-sized companies with unique technology suitable for Chinese investors to buy and manage."
According to Qian, Chinese investors would also like to look for assets in Japan but, because of political issues, it is difficult to go there at the moment.
"Companies in the United States are usually very large and their industry chains are long with many stakeholders involved, so it is not easy for Chinese companies to do M&A deals in the US," said Qian.