Chinese pharma companies look West
Updated: 2013-05-20 07:38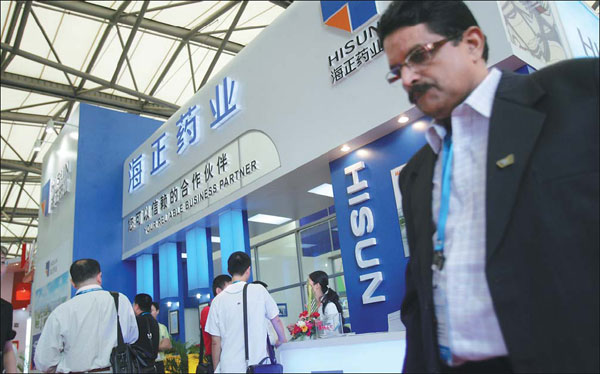 Zhejiang Hisun Pharmaceutical Co's pavilion at a fair in Beijing. By setting up a joint venture with US-based Pfizer Inc in September, Hisun made a breakthrough in China's pharmaceutical industry by taking a controlling stake in the JV with Pfizer, the world's largest drug-maker by sales. [Photo/China Daily]
Many seek partnerships, mergers and acquisitions to build brands
Several Chinese pharmaceutical companies have been recognized by the overseas medical industry largely because of their partnerships with multinational giants.
Zhejiang Hisun Pharmaceutical Co set up a joint venture with US-based Pfizer Inc in September 2012. Simcere Pharmaceutical Group has established a partnership with MSD - known as Merck & Co in the US and Canada - and Bristol-Myers Squibb Co. Chinese biotech company Sino Biological Inc reached an agreement with Life Technologies Corp for protein product distribution and development worldwide. Shanghai Fosun Pharmaceutical (Group) Co has become the largest single shareholder of US-based medical care company Saladax Biomedical Inc.
Insiders say the collaborations are mainly driven by foreign drug-makers' desire to leverage their Chinese counterparts' distribution networks, local market knowledge and administrative resources to take a bigger market share, especially in the grassroots sector in China.
"On the flipside, the Chinese companies are also ambitious. They are eager to get international market access, realize technical upgrades and even build their brands through platforms abroad," said Zhang Fabao, a member of China Pharmaceutical Technology Organization Expert Committee.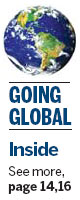 "That can be seen as a shortcut for Chinese pharmaceutical enterprises to go global and a win-win strategy for both sides," he added.
Bilateral partnership
Hisun got a breakthrough in China's pharmaceutical industry by taking a controlling stake in the joint venture with Pfizer, the world's largest drug-maker by sales. Hisun has a 51 percent share in Hisun-Pfizer Pharmaceuticals Co, with a total investment of $295 million and registered capital of $250 million. Pfizer holds the remaining stock.
The joint venture focuses on the manufacturing and commercialization of branded generics, or high-quality and low-price off-patent medicines, in China and around the world. Hisun contributed a strong portfolio - 75 products, wide market reach in China and expertise in the production and commercialization of generics, while Pfizer offers, in addition to eight products, its research and development, marketing and manufacturing capabilities.
The operational revenue of the joint venture is exected to exceed $2 billion yuan, said Wu Xiaobin, country manager of Pfizer China.