Shuanghui to buy US pork producer
By Michael Barris in New York and Joseph Boris in Washington | China Daily | Updated: 2013-05-31 13:57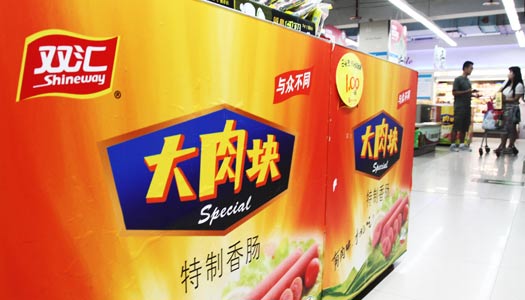 An advertisement for Shuanghui products at a supermarket in the city of Xuchuang, Henan province on June 3 2013.[Geng Guoqing / Aisanewsphoto]

Acquisition by Chinese firm to help satisfy demand amid safety concerns
In what would be the biggest takeover of a US company by a Chinese buyer, Shuanghui International Holdings Ltd has agreed to pay $4.72 billion to acquire Smithfield Foods Inc, the world's leading pork producer, to meet growing demand for US-made pork.
The transaction, which also includes $2.38 billion in assumed debt, is China's largest cross-border deal since CNOOC Ltd paid $15.1 billion last year for Canadian oil and gas producer Nexen Ltd. It faces regulatory scrutiny because it would bring a major US business under foreign control.
The announcement on Wednesday came just over a week before the June 7-8 meeting in California between President Xi Jinping and his US counterpart, Barack Obama.
It also comes at a time when food safety, along with environmental pollution, is a concern in China, prompting the central government to crack down on some food producers. The country is the world's largest consumer of pork.
In a conference call with analysts after the deal was announced, Smithfield CEO C. Larry Pope characterized the transaction as "exporting America to the world" rather than as part of a strategy to import Chinese pork into the United States.
The companies had been in discussion for four years before reaching agreement, he said.
"We saw the opportunity," Pope said, but "pricing has always been an issue".
Smithfield stock will no longer be publicly traded once the deal closes, expected later this year.