Hisense keeps expanding in South Africa
Updated: 2013-07-02 15:18
Huge Hisense Appliance Industrial Park in South Africa entrenches the brand's successful global image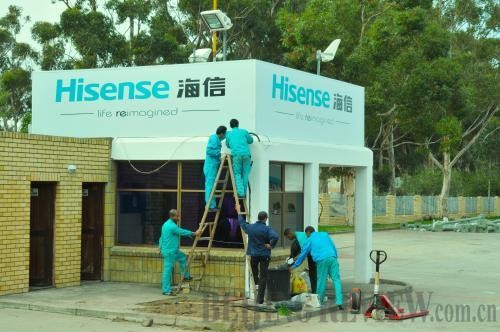 The Hisense factory in Atlantis nears completion for its official opening in June [Photo / Francisco Little]
It's 2:30 pm and the large red electronic counter board on the factory wall registers the day's 439th flat-screen TV as it rolls off the assembly line. Above that figure glows the daily target of 700. The uniformed staff are bustling in the sanitized, climate-controlled environment—excitedly motivating each other to reach the target, eyes constantly flicking up to the counter.
Inside the cavernous Hisense factory, situated 40 km outside Cape Town, South Africa, in the rural town of Atlantis, size matters. Everything is large scale and the workers know it. Elton Jansen, Production Supervisor of the TV operation, said that after 45 days training, the staff are raring to go. "It's the culture of the people in this region to be competitive and with added incentives for work performance, they have no problem reaching their targets," said Jansen.
Achieving targets is embedded in the Hisense corporate consciousness. Starting out as a small radio factory in China in 1969, the company has grown into a global multibillion-dollar appliance and technology corporation. Hisense entered the South African market in 1996, originally based in Midrand Johannesburg, and now distributes to more than 3,000 chain stores and 500 home appliance stores.