CNOOC's H1 profit rises after Nexen acquisition
Updated: 2013-08-21 08:05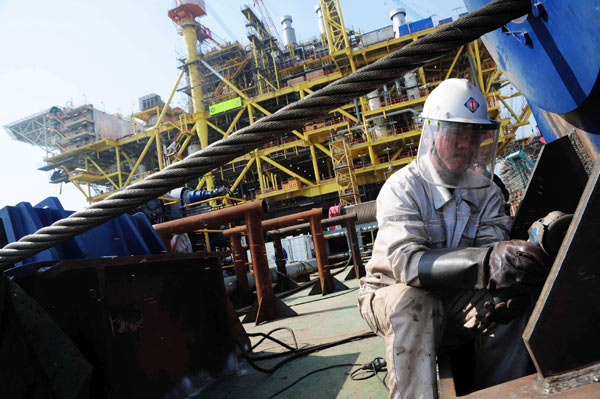 CNOOC Ltd's total net oil and gas production rose 23.1 percent year-on-year to 198.1 million barrels of oil equivalent during the first six months, with Nexen contributing 12.5 percent. [Photo / Provided to China Daily]
CNOOC Ltd - China's largest offshore oil explorer - said on Tuesday that its net profit rose 7.9 percent year-on-year in the first half to 34.4 billion yuan ($5.6 billion), with the newly acquired Nexen Inc bringing 24.8 million barrels of oil equivalent to the company.
Benefiting from rising net oil and gas production, CNOOC's oil and gas sales reached 110.8 billion yuan in the first half, up 15.8 percent year-on-year, it said.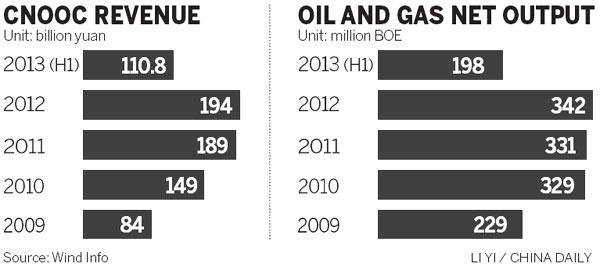 The company's total net oil and gas production rose 23.1 percent year-on-year to 198.1 million BOE during the first six months, with Nexen contributing 12.5 percent.
CNOOC said earlier that the acquisition of Canada's Nexen on Feb 26, which was the biggest-ever overseas takeover deal by a Chinese company, would increase its annual output by 20 percent and increase its proven reserves by 30 percent.
Li Fanrong, CNOOC's chief executive, said Nexen will contribute 59 million BOE in the second half, accounting for about 17 percent of the company's whole-year output, which will enable it to achieve the previous full-year production target.
"The value of Nexen will not soar right away after CNOOC's acquisition, but it will realize its value gradually as the innovative technology improves," said Li.
He declined to estimate Nexen's profit for the second half, but said the company is doing better than expected.
CNOOC said that, because of Nexen's acquisition, its all-in cost increased 22.4 percent year-on-year to $42.36 per BOE. Taking out Nexen's impact, the all-in cost would have been $37.81 per BOE, an increase of 9.3 percent year-on-year.
"For a large takeover project, the earnings ratio usually doesn't look too good during the first few years because there are many invisible costs such as the rearrangement of the management team, technology and process," said Liao Na, the vice-president of Shanghai-based energy consultancy ICIS C1 Energy.
She said it will be more reasonable to evaluate the acquisition in three years when the businesses and management teams are stable.