Europe attracting a greater number of tourists
European countries are wooing Chinese tourists amid growing numbers of travelers embarking on foreign trips.
Germany has launched a number of campaigns to attract Chinese visitors, with some especially designed this year to woo the young, said Li Zhaohui, marketing and sales director of the German National Tourist Office Beijing.
One campaign features the Brothers Grimm following the 200th anniversary in 2012 of the publication of their first collection of folk stories, Children's and Household Tales.
A 600-km "fairytale route" runs from Hanau in central Germany to Bremen in the north. Tourist attractions along the route are linked to where the brothers lived and worked.
Others include celebrations of the 200th anniversary of Richard Wagner's birth as well as car-themed routes.
To facilitate travel, the German National Tourist Board has developed an app called Youth Hotspots.
"Young people can't live without mobile devices, but WiFi in Europe is not all free. Youth Hotspots will help them," said Constanze Hilgers, director of destination management with the board, in an earlier interview with China Daily.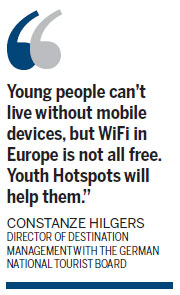 The app not only tracks down about 1,500 free WiFi locations in Germany, but also offers tips from other travelers about restaurants, bars, cafes, must-sees and events.
Meanwhile, Germany-themed activities across China are also helping to publicize the country's charm.
Among the oldest is the 21-year-old Oktoberfest at the Kempinski Hotel Beijing.
The annual carnival attracts more than 8,000 people each year to indulge their passion for German beer and sausages, said Liu Shuchi, head of the hotel's marketing department.
Li, from the German National Tourist Office Beijing, said Chinese visitors accounted for nearly 1.6 million overnight stays in Germany and purchased one third of the country's tax-free goods in 2012.
China overtook Japan in 2010 as the largest source of Asian travelers to Germany. And Germany is China's most important source of travelers from Western Europe. Some 660,000 Germans visited China in 2012.
Ireland, one of Europe's most beautiful destinations, can guarantee a warm, friendly welcome for tourists.
Oisn Quinn, mayor of the capital city Dublin, traveled thousands of kilometers to woo Chinese tourists at an expo in Beijing organized by the World Tourism Cities Federation.
Some must-sees in the city are Dublin Castle, Trinity College, and the Dublin Writers Museum.
Since 2011 Chinese tourists can visit Ireland visa-free for 90 days as long as they hold a valid UK visa. The policy, which was due to expire in 2012, has been extended to 2016.