German carmaker Daimler announces corporate re-organization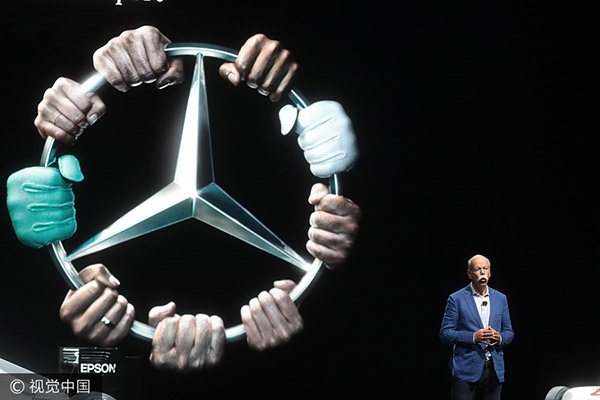 Dieter Zetsche, chief executive officer of Daimler AG, speaks on stage during the Daimler media night ahead of the IAA Frankfurt Motor Show in Frankfurt, Germany, Sept 11, 2017. [Photo/VCG]
BERLIN - German carmaker Daimler AG announced a far-reaching re-organization of its corporate structure on Monday.
The owner of luxury brand Mercedes-Benz intends to create three legally-distinct business units centered on cars and vans, trucks, and financial services. According to the public statement, Daimler is investing a figure in the hundreds of millions of euros in a first step towards this end.
"On the one hand, we are more successful than ever, but on the other hand our industry is changing like never before," Daimler Executive Dieter Zetsche said. Zetsche justified a resulting pivot to a "divisional structure" by pointing out that firms needed to re-invent themselves continuously if they wanted to be "permanently competitive" and "sustainably profitable."
The new units will only loosely be held together under the corporate umbrella of Daimler AG whilst shouldering more individual responsibility for their commercial success.
Speaking to Xinhua, a Daimler spokesperson emphasized that the restructuring efforts "did not contradict" pre-existing corporate objectives to enhance the firm's presence in growth markets such as China and shift towards a greater focus one electric mobility.
Instead, the creation of legally independent units with "excellent market- and customer proximity" would allow Daimler to "better utilize the growth potential" in these areas.
The German newspaper "Handelsblatt" and magazine "SPIEGEL" both suggested on Monday that Daimler may seek to publicly list one or more of the three units established in a bid to raise much-needed funds for an electric-mobility offensive.
Daimler did not comment on such speculation and merely voiced confidence that its new structure would allow it to weather the "challenges of a new automobile age."
Boddo Uebber, head of the Finance & Controlling division on Daimler's board, told press that the company needed to react "as quickly and flexible as possible" to changing market conditions if it wanted to ensure that its current strength endured.
The Stuttgart-based firm further noted that all planning was being closely coordinated with workers' representatives and that it had prolonged existing job guarantees for employees until 2030.
The restructuring plans are still subject to approval by Daimler's board and an Annual General Meeting of investors scheduled in 2019. For the moment, external advisors were still clarifying the legal and tax implications of the corporate reform plans.
Traders appeared to welcome the news on Monday, with Daimler stocks listed on the German DAX exchange rising by 0.8 percent.