High-tech innovations boosting Internet Plus economy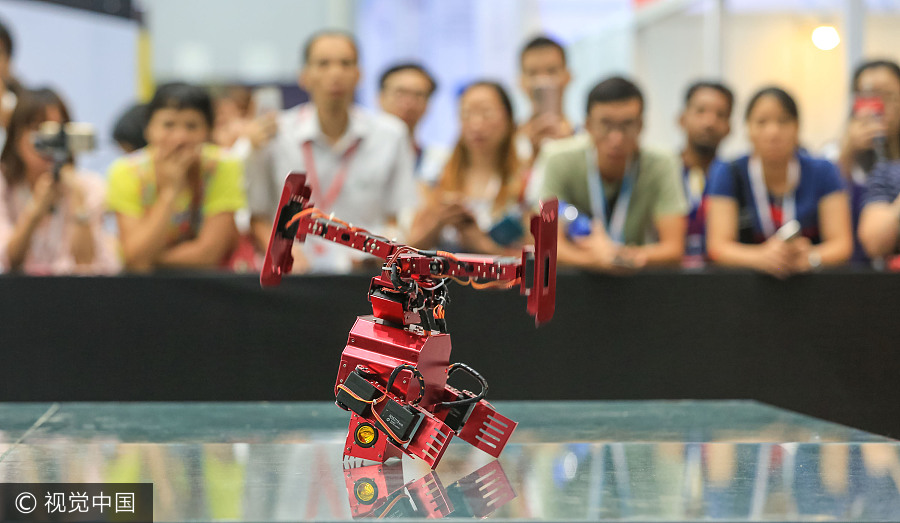 A robot dances at the third Internet Plus Expo in Foshan, South China's Guangdong province, on Oct 12, 2017. [Photo/VCG]
A slew of high-tech innovations boosting the country's Internet Plus economy is the centerpiece of the third Internet Plus Expo in Foshan, South China's Guangdong province, on Oct 12, 2017.
Themed as "New Interconnection, New Smart Manufacturing, New Future", the four-day expo showcases how Internet Plus will change manufacturing industries.
This expo focuses on various areas of innovation such as intelligent manufacturing, cutting-edge Internet Plus technologies and smart cities.
Meanwhile, the 12th China International Logistics and Transportation Fair is being held in Shenzhen, also in Guangdong province.
About 1,900 exhibitors from 50 countries showcased their products in 14 areas, covering diversified topics like logistics and supply chain management, internet and e-commerce, and intelligent manufacturing supply chains.
The proportion of international exhibitors at this year's CILF has surpassed 30 percent of the total.
These two expos are being held in the wake of China's rapid development in the era of the Internet Plus and Industry 4.0 strategies.